Chorus presentations by year

Click below for Chorus presentations by year.
2020
24 April - Anzac Eve 'virtual' Peace Vigil

Each year, starting from 2011, we have co-hosted a lantern-lit peace vigil on Mount Ainlie on Anzac Eve, Our 10th vigil was held online this year, as a result of COVID-19 restrictions. Although we couldn't be together on the mountain, our vigil was nevertheless a beatiful community event with social, if not physical, connection. You can read the report and see video footage here.

14 March - Music to Awaken and to Heal - Australian Centre for Christianity and Culture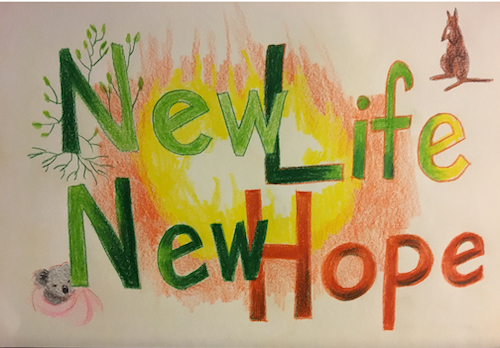 Combined choristers of Canberra, including A Chorus of Women, professional soloists and a small orchestra directed by Judith Clingan AM, presented a sequence of Australian choral and vocal compositions which look at the historical and present realities of climate change, fires and environmental crisis.
This was more than a concert – it was a coming-together of all of us whose hearts are full of grief and anxiety about the future. Everyone – audience and performers – joined together in singing a simple round, and in wordless vocalising above the sound of singing bowls.
Proceeds from the concert are being donated to directly support injured wildlife and habitat restoration in the South Coast and Alpine areas.

9 March - Commonwealth Day Multi-Faith Celebration
The Chorus was again invited to participate in this annual event at the Australian Centre for Christianity and Culture. The very timely theme for this year's event was 'The Commonwealth and Climate Action'. We contributed two songs related to the theme: Glenda Cloughley's 'Lament for Gaia' and 'The Promise'. Very many audience members took up our invitation to join in singing our collective promise to the Earth, as 'the voice of our children's hope'.
14 February - Opening of Sally Blake's Exhibition 'The Ancient Gaze' at Belconnen Arts Centre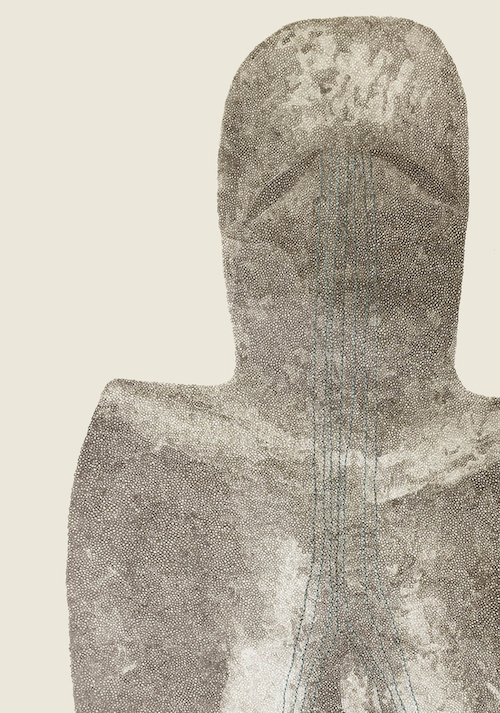 A Chorus of Women was invited to sing at the opening of this exhibition. The title of the exhibition refers to the central image –
The Ancient One –
a drawing of the Venus of Dolni Vestonice, a 30,000 year old figurine, considered to be a representation of the Mother Goddess. The art works focus around the themes of lament and renewal, regeneration and transformation, which are very aligned with our mission.
Like us, Sally shows a connection between ancient wisdom and today's issues. Included in her exhibition was a striking image of Greta Thunberg, the Swedish girl who intitiated the global School Strike for Climate movement.
You can read an artist's statement
here
.
For more information see the
Belconnen Arts Centre website
.
5 February - People's Climate Assembly: Building a Citizen's Chorus choral and story-telling workshop
This workshop was part of the collaborative People's Climate Assembly, held over 5 days on the Parliament House Lawns.

We hosted a workshop, combining our original music with storytelling from our 17-year history of singing up regeneration in this city.
We shared songs from Glenda Cloughley's prophetic 2008 choral drama The Gifts of the Furies. Johanna McBride taught her song Ubuntu, which we sang again, along with other songs from the workshop, at the 5pm performance for the whole Assembly.

2019
28 November - Lifting the Curious Spell of War - A Singing Seminar recalling Women's Peace Making in 1914-19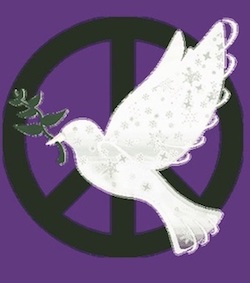 For the second time in 2019 we went to the Australian War Memorial to tell big inspiring stories from the First World War that had never been heard in that place. In June, AWM Director Dr Brendon Nelson was so moved by our first singing seminar about the women peacemakers we regard as our spiritual great grandmothers that he invited us to return in November.

Again, we wove historical information together with music from A Chorus of Women's productions of The People's Passion by Glenda Cloughley. Again, our audience was emotionally engaged and the Q&A was lively.

You can view and download the well-illustrated script here. This is now in the AWM Collection and we are in conversation with the new director Matt Anderson about its inclusion in AWM education programs.

The Chorus of 17 women was joined by AWM Musician-in-Residence Chris Latham (violin), Lucus Allerton (keyboard) and John Smiles (alto flute) with Johanna McBride directing.

11 November - Save Medevac Vigil

We joined a dedicated group of Rural Australians for Refugees on the morning after their overnight vigil in the grounds opposite Parliament House. They had invited us to sing in support of keeping the compassionate legislation allowing transfer of refugees from Nauru and Manus Island to Australia for urgent medical treatment. Unfortunately, this legislation has since been repealed. We will not give up on working for humane, compassionate treatment of asylum seekers.

27 October - Opening of the 8th International Conference on Ageing and Spirituality
We were invited to sing at this event at the Australian Centre for Christianity and Culture, on Sunday 27 October, at 6pm. After a smoking ceremony and Welcome to Country we offered a number of our songs, linked with a narrative that showed the connection to the conference theme.

21 September - International Day of Peace
We were invited by Canberra Rotary to sing again at the annual ceremony to mark this special day, at the Canberra World Peace Bell in Lennox Gardens. As well as singing our own Peace Bell Song, we were excited to be able to premiere a song which has come to us from the Peace Bell in Berlin, Germany. It incorporates the words 'Heiwa' and 'Frieden', which are the Japanese and German words for 'peace'.
See more about Canberra World Peace Bell.

20 September - School Strike for Climate

We again supported the school students at their 2nd rally of the year, this time in Glebe Park, with an even larger crowd than the March rally. At the invitation of the student organisers, we helped with encouraging the crowd to join in the singing of You are the Voice, as sung by John Farnham.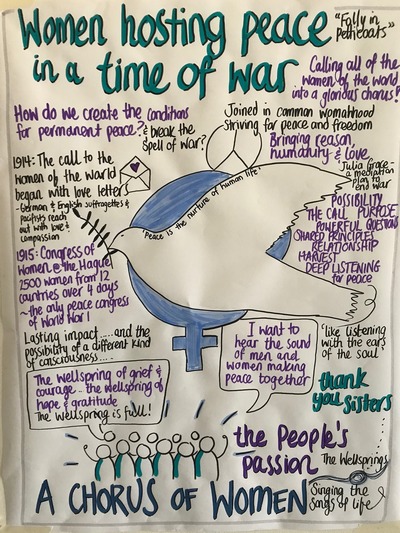 11 September - Women Hosting Peace in a Time of War

This singing seminar was presented to participants in a training weekend on the Art of Hosting Conversations which Matter. Read the invitation.

In narrative and song, we retold the 100-year old story of the worldwide web of women who inspired The People's Passion. We explored their collaborative processes which yielded resolutions that have informed much subsequent human rights law, showing how their humanity and respect for each other inspired the same process and principles that inform Art of Hosting today, An enthusiastic and emotional circle conversation followed the presentation. Mel Geltch, one of the training team, drew this beautiful image as a harvest of the presentation.



28 and 30 June - The People's Passion On the occasion of the centenary of the disastrous Treaty of Versailles we presented two new performances of The People's Passion, our 100-year-old story of hope for people's movements today with music and lyrics by Glenda Cloughley. Read more about the June 2019 performances.

14 June - Women, Peace and Bread in a Time of War

As part of the lead-up to The People's Passion, at the end of June, we presented this 'singing seminar' at the Australian War Memorial. We wove stories and history about the inspiring women of the international peace network during and after World War One with excerpts of the Passion music, powerpoint images and video footage from our 2015 Passion. The chorus was joined by Chris Latham (violin) and Gillian Peirera (cello). The audience included many war memorial educators, historians and volunteers. They were moved by the presentation, surprised by this important history, totally unknown to them. Some asked how this information could be made available to visitors to the memorial.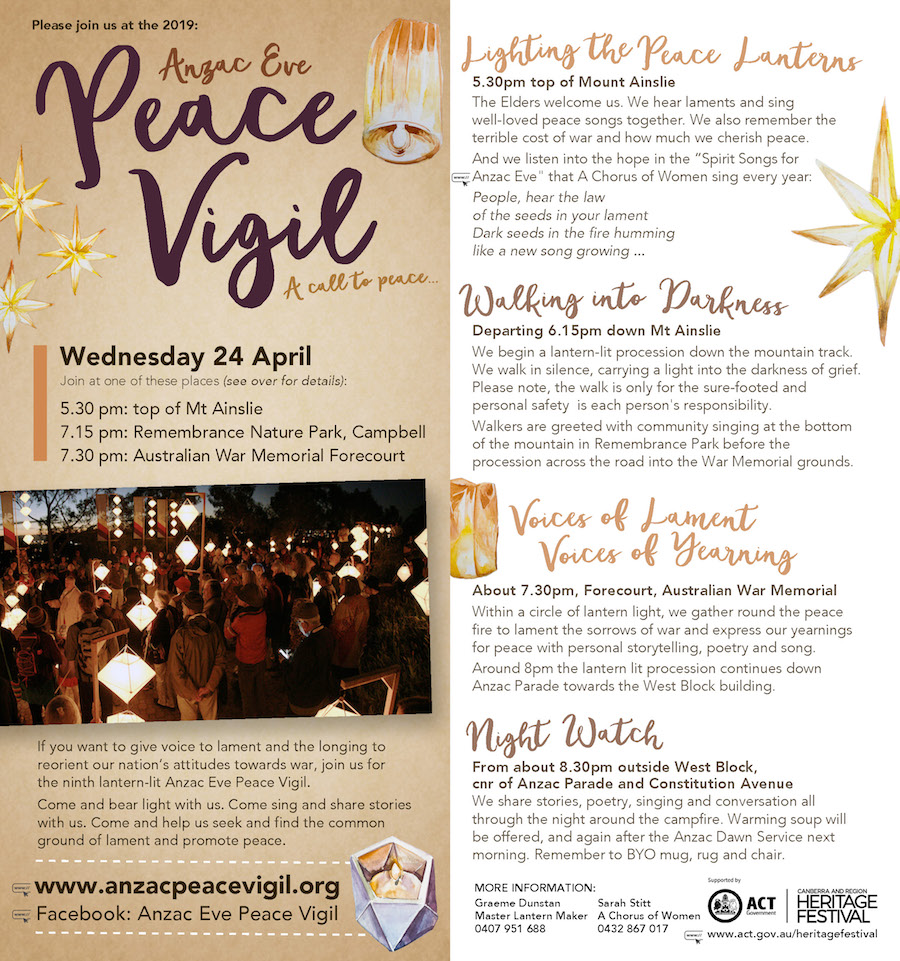 24 April - Anzac Eve Peace Vigil

Since 2011 each Anzac Eve, 24 April, we gather with candle lit lanterns to lament the tragedy of war and sing our dreams for a peaceful future. We sing 'Spirit Songs for Anzac Eve' and through the smoke from the fire lit by aboriginal tent embassy coals we descend in silence into darkness down the mountain thinking of all the souls lost in war, their families and friends who mourn them, and hope that it will never happen again. For more information see our report on Anzac Eve Peace Vigils.




14 April - Palm Sunday Rally for Refugees
John Minns from the Refugee Action Campaign had the idea of a flash mob singing Beethoven's 'Ode to Joy' at the 2019 Palm Sunday Rally for Refugees in Garema Place, Canberra. He asked A Chorus of Women to make it happen. Glenda Cloughley wrote new lyrics with the title 'Song of Life'. Johanna McBride arranged the music for choir, soloists and instruments.

We gathered more than a hundred voices for our citizens' chorus. and rehearsed in secret. We also invited musician friends - among them soloists Tobias Cole and Tim Hollo, and instrumentalists Lucus Allerton, Max McBride and Gillian Pereira. Rehearsals were a well-kept secret in Canberra. On the day the 5000 strong crowd joined in enthusiastically. For more information go to our highlights page.

15 March - School Strike for Climate

Along with supporters of all ages, we joined with the school students in their strike for climate rally in Garema Place. The space was overflowing! The event was inspiring, with moving speeches and music, all organised and led by the kids. Afterwards, the large crowd marched to Glebe Park, for a more informal gathering, where we joined in the singing.
13 March - 'Accelerate' Film Screening
On Wednesday, 13 March, at 7.30 pm we hosted a screening of this 30 minute taster of 'Accelerate', jointly with SEE Change. This new documentary about 350.org, an organisation founded by Bill McKibben to work for action on climate change.
After the screening Janet Salisbury from Chorus and Mark Spain jointly facilitated conversation among the 75 people who attended. We contributed some of our songs for the Earth to support reflections.

We were inspired by leaders of the School Strike in Canberra planned for 15 March who addressed the meeting.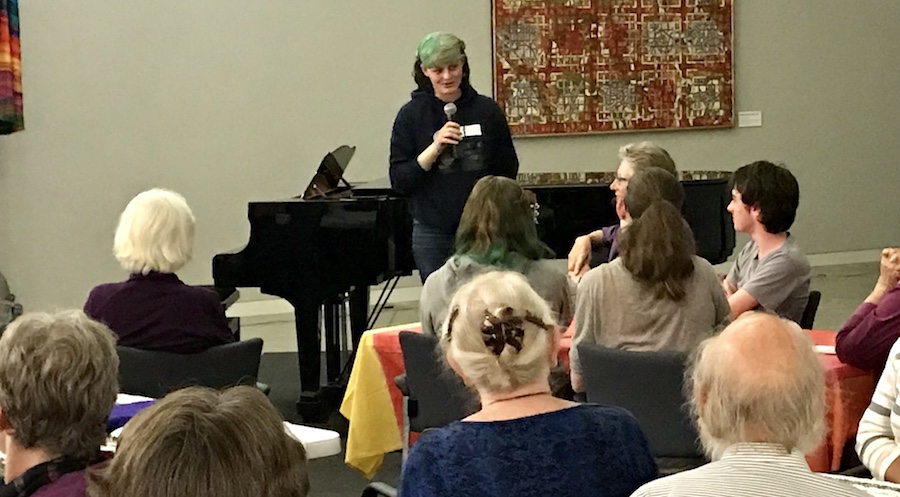 10 March - Commonwealth Day Multi-Faith Celebration
The Chorus was invited to participate in the Commonwealth Day Multi-Faith Celebration at the Australian Centre for Christianity and Culture. The theme for this year's event was 'A Connected Commonwealth'. We contributed our song 'Ubuntu - I am who I am because of you' and in the spirit of the song, extended a warm invitation to the audience to join the singing.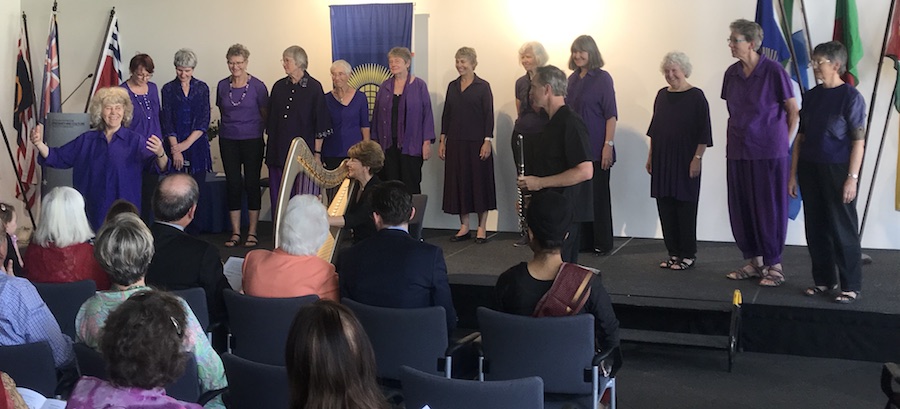 2018
11 November - The People's Passion
This sell out performance of a reworking of Glenda Cloughley's 2015 cosmmunity oratorio A Passion for Peace was our contribution to the commemorations of the centenary of Armistice Day. See our report.
21 September - International Day of Peace
We contributed to a ceremony at the Peace Bell, with another singing of Meg Rigby's new 'Peace Bell Song'. We also sang 'A Recipe for Peace' to congratulate our sisters from The International League for Peace and Freedom (WILPF) who were awarded the Chief Minister's Rotary Peace Prize.
20 September - ICAN Rally at the Canberra International Peace Bell
A Chorus of Women sang 'The Lament' at a ceremony around the Peace Bell, commemorating the victims of nuclear war and as a warning against any future dangers from the possible use of nuclear weapons. This event started off a rally to Parliament House where activists and politicians, including Tim Hollo, Robert Tickner and Anthony Albanese called on our governemnt to sign the treaty for the prohinition of nuclear weapons.
19 September - ICAN Nobel Peace Prize Welcome Dinner
We contributed peace songs, including a selection from The People's Passion to the Spring Banquet for the riders, organised by Beyond Uranium Canberra, at the ANU Food Coop. At this happy occasion the ICAN bike riders who brought the Nobel Peace Prize from Melbourne were welcomed in Canberra. This prize was awarded to ICAN for their role in negotiating a UN treaty for the prohibition of nuclear weapons. Read more about this initiative.
5 August - Hiroshima Day Ceremony at the Peace Bell
We participated in a moving ceremony to commemorate the victims of the atom bombs of Hiroshima and Nagasaki. Meg's new 'Peace Bell' song with special lyrics for the occasion was our contribution to the event. You can read about the Rotary Peace Bell and our 'Peace Bell' song on our 'What's New' page.
1 June - Jam for Refugees
On1st June 2018, A Chorus of Women expressed their support for a kind and humane response to those who seek asylum in Australia, by performing in the annual fundraising event, Jam For Refugees, organised by the Refugee Action Campaign Canberra at All Saints Anglican Church in Ainslie. Together with the Cyrenes, Chorus sang 'A Home Away From Home', 'A Recipe for Peace' and 'Ubuntu', receiving a warm response from both audience and event organisers.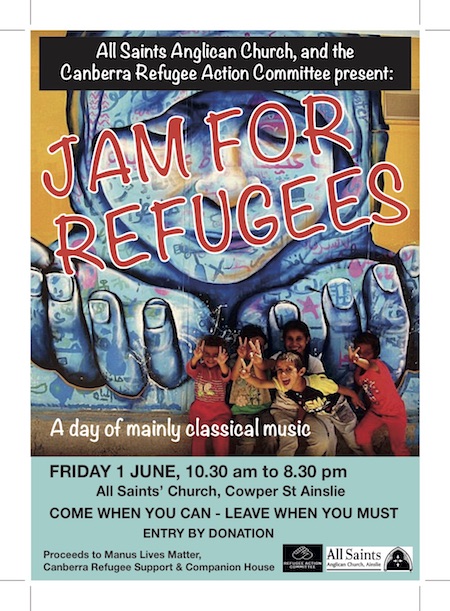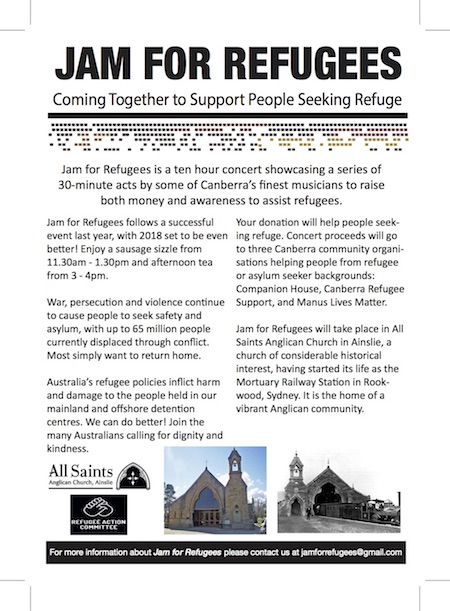 6 May - Ubuntu Africa Choir in Canberra
A Chorus of Women and the Cyrenes women's choir welcomed the Ubuntu Africa Choir with our own Ubuntu song!

You can find the meaning of Ubuntu in our 2005 song by Johanna McBride. The Chorus and the Cyrenes are inspired by this ancient African philosophy that impelled the end of apartheid.

The concert was a fundraiser to fund the completion of a Ugandan high school. See www.kwaya.org for more information about the choir's 2018 tour.
24 April - Anzac Eve Peace Vigil
This event has become a Canberra tradition. Starting at the top of Mt Ainslie with community singing and ceremony, we walked down towards the War Memorial in a lantern-lit procession re-imagining the Anzac narrative away from its exclusive focus on past overseas wars, and towards a peaceful and inclusive future.
Watch a video on our facebook page.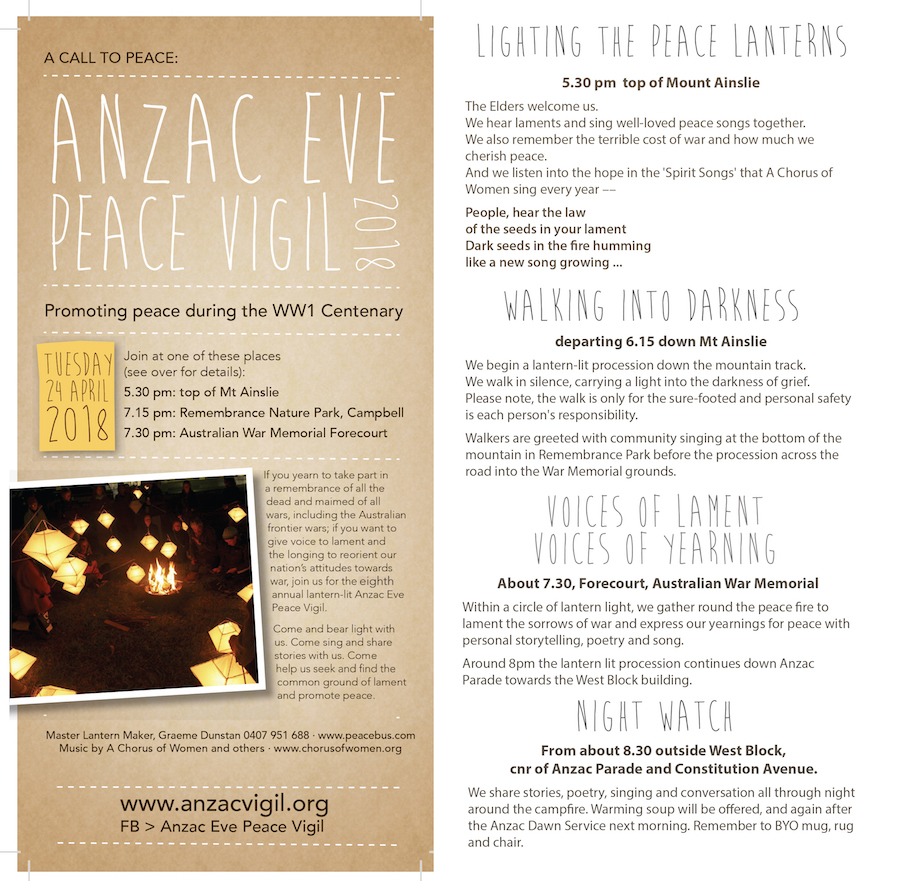 20 April - Our Ethos in Stories and Song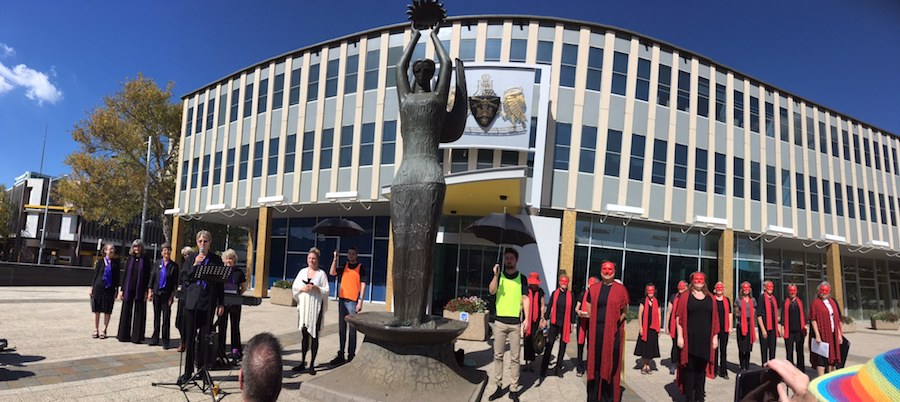 The City of Canberra fared well when the Spirits of Earth showed up in Civic Square recently for an encounter with Ethos and the citizens. Wearing Greek tragic masks, the stern earth spirits also warned of drought, fire and filthy skies if Federal climate policy is not radically transformed. Ethos (1961), Canberra's first public art commission, sang at the centre of the drama in the voice her sculptor Tom Bass heard 13 years ago in a dream of guidance for the community. Our music was from Glenda Cloughley's The Gifts of the Furies, our mythic scale drama about relations between people and Earth, and Glenda's setting of the Ethos dream. The well-attended occasion was one of our contributions to the 2018 Canberra and Region Heritage Festival. Here is the event flyer.
23 February - Launch of the Canberra World Peace Bell
The Canberra World Peace Bell was launched in Nara Peace Park. A Chorus of Women were invited to sing for this event. Our Meg Rigby wrote her 'Peace Bell Song' for this special occasion. Read more about the Peace Bell project here.
2017
10 December - Celebrating Women's Voices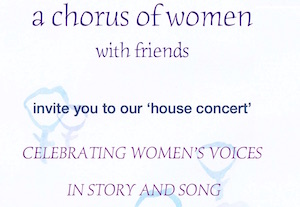 At our end of year concert at at the Chapel, Australian Centre for Christianity and Culture, we shared, in story and song, inspiring stories of women around the world working for peace. Sue Wareham of MAPW told us of the nobel peace prize awarded to ICAN. We also heard excerpts from Judith Clingan's latest work, Harmonia Mundi, music and stories around A Passion for Peace and the Women's March movement.
8 September - Singing paper for Feminist Utopias: Past, Present and Imagined conference
We presented a singing paper, Resounding Harmony: The Utopian Impulse, by Glenda Cloughley and A Chorus of Women with musical direction by Johanna McBride, at a 1-day conference hosted by the ANU Gender Institute and ANU School of History in the Great Hall of University House. You can download a multi-media copy of the paper.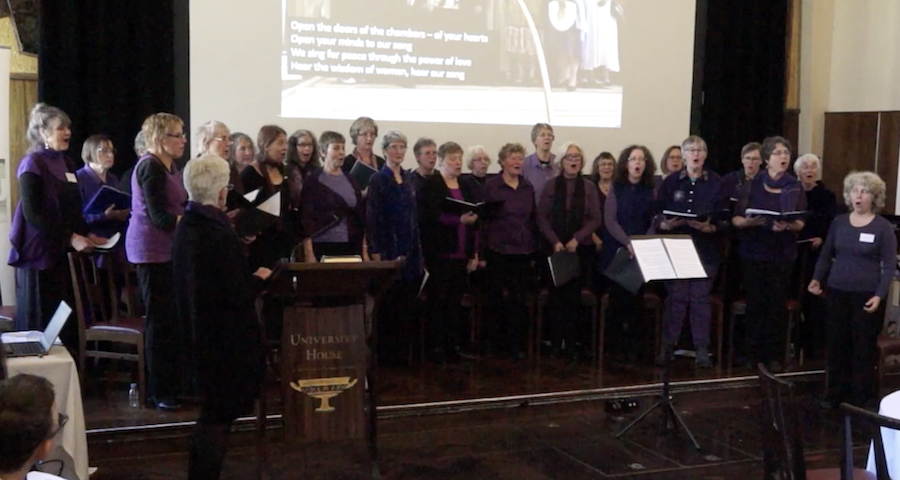 With live original music and performance video clips we showed that emergent utopias are always alive in the 'generative substratum' of culture, where harmonious families and communities continuously renew the cycles of life.
The presentation focused on the global story of utopian impulses that drew 1300 women from warring and neutral countries together in the only international peace conference of the First World War. The music included 'law chorales' which sing the guiding precepts of that 1915 International Congress of Women. These inspired our centennial community oratorio A Passion for Peace and manifest globally again in the Women's Marches of January 2017.
23 July - screening of 'Guarding the Galilee'
To support the Stop Adani campaign, we hosted a film screening of the 30 minute documentary 'Guarding the Galilee' at the Australian Centre for Christianity and Culture on Sunday 23 July, 5-6.30pm. We also sang some of our songs for harmony with Nature and have informal conversation after the film.
Donations were collected for the Defence of Country fund of the Wangan and Jagalingou Traditional Owners
Presented by Queensland-born actor Michael Caton, the film is about the struggle to stop the biggest coal mine in Australian history, Adani's Carmichael project.

The award-winning documentary team capture the raw beauty of Central Queensland where Adani's mine threatens essential water resources, and follow the water to the Coral Sea where the Great Barrier Reef is in peril from coal port dredging, increased coal ship traffic and burning of coal for electricity, the biggest contributor to climate change.
You can watch the trailer here:
19 July - #EvacuateNow - Canberra Vigil - Call for Singers
For 4 years, successive Australian governments have forced people seeking safety to suffer in offshore detention.
Let's open the gates of the detention camps,
Let's meet with you face to face,
Let's work together to make a plan,
Let's share the burden and help you all to find
A home away from home
We invited Canberra singers, men and women, to help us form a citizen's chorus and sing our song 'A Home Away from Home' which includes the above words in the final verse. We were very happy to have a citizens chorus of around 25 singers, including some of Canberra's finest musicians.
This was to support a nationwide action calling for asylum seekers in Manus and Nauru to be released from those camps immediately and brought to safety after four years of suffering in limbo and with no clear solutions in sight.
Read the lyrics and listen to a recording of the whole song which is a short history of Australia's immigration. Most of us are boat people!
25 June - Refugee Week Fundraiser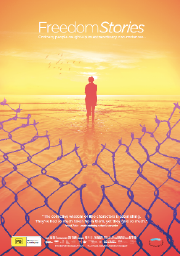 This event was held at the Chapel of the Australian Centre for Christianity and Culture on 25 June 2017, 4.30pm, to mark Refugee Week 2017.
We showed the film 'Freedom Stories', which tells the very moving stories of several asylum seekers who came to Australia by boat and ended up in detention camps. All of them are now Australian citizens.
We welcomed our audience by singing our song 'A Home Away from Home'. The film was followed by light refreshments and conversations with the audience. All proceeds will be donated to the local organisation 'Canberra Refugee Support' who help with refugee settlement in Canberra.
Click on the image to download a flyer.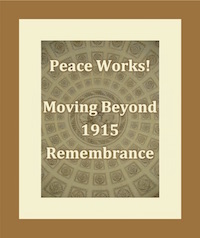 6 May - Peace Works book launch
On 6 May, at the Australian Archives, we presented a group of peace songs, including Johanna McBride's 'When People Start to Sing', Glenda Cloughley's 'Spirit Songs' and Honey Nelson's 'Anzac Hymn' for the launch of the book Peace Works! Moving Beyond 1915 Remembrance' which was the result of a community writing project. Glenda also gave a presentation about the Peace Festival and the premiere performances of A Passion for Peace in 2015.
The book includes contributions from Chorus members Annie Didcott and Glenda Cloughley. Eminent historian Joan Beaumont launched the book. Find more information about this community project at their website.
24 April - Anzac Eve Peace Vigil
We continued our annual event of commemoration and lament for all victims of war and violence, starting on top of Mount Ainslie, and walking with our lanterns into the darkness of Anzac Eve. See here for more information about this event.
22 April - March for Science
A Chorus of Women joined over 1000 Canberrans on the lawns in Federation Mall - against the magnificent backdrop of Parliament House. The Canberra march was one of 11 marches in Australia and over 600 marches worldwide (in the US, Canada, Mexico, and right across South America, Europe, Africa, the Middle East, Asia and the Pacific) to support and celebrate science and scientists, who have become increasingly frustrated when science data, the results of their painstaking research, and scientific consensus, are ignored and marginalised by government leaders and policy makers, and resourcing for science institutions is reduced or withdrawn. These issues have become particularly serious under the current US administration - but are also plain to see to a greater or lesser all over the world.
Janet Salisbury helped to organise the Canberra march and was one of the MCs for the event. The four excellent speakers, each told us in their own way, why science is important, how it needs to be properly resourced and accessible to all, while the results need to be openly communicated, discussed, and used to inform policies. Janet led sung chants from Chorus of 'All we are saying .... Science for all' '....act on the facts', '... give science a voice' and '... given truth a chance'. A 'marchers pledge' was displayed for signing. The opening words 'We are a passionate, peaceful people ...' inspired our other song-chant based on the song 'Singing for our Lives' by Holly Near. Here are some photos of the event.
10 March - Singing for MARSS
We were invited to contribute some of our songs to the Migrant and Refugee Settlement Services International Women's Day celebrations. We sang 'A Recipe for Peace' and many present joined us in singing 'A Home Away from Home'.
2016
26 November - Singing Regeneration!
On Sunday, 26 November we held our end of year concert which coincided with the closing of the 'Seasons of Birth' art exhibition at the Australian Centre for Christianity and Culture. The event combined music and reflections on the laws of regeneration, regenerating humanity and regenerating the Earth. Click here to view the flyer for this event.
1 September - Mission Climate!
We held a big fundraiser for the Climate Council at the Australian Centre for Christianity and Culture. Many scientists and artists participated as well as the Cyrenes Women's Choir. Read the full report on our highlights page.
24 April - Anzac Eve Peace Vigil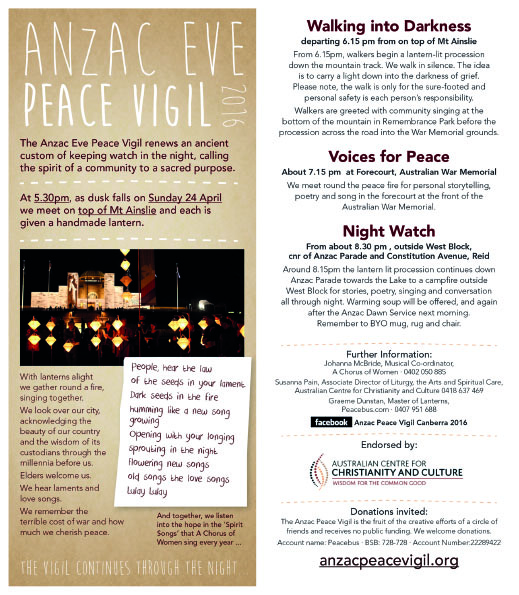 On Sunday 24 April 2016, we are continuing the tradition of gathering on the eve of Anzac Day to lament and remember not only the soldiers but the victims of all wars and violence. Please join us at any point, on top of Mount Ainslie, in Remembrance Park or at the Forecourt of the Australian War Memorial. See the flyer and Anzacpeacevigil.org for more information. See here for more information about previous Anzac Eve Peace Vigils.
16 March - Rally - Grandmothers for Refugees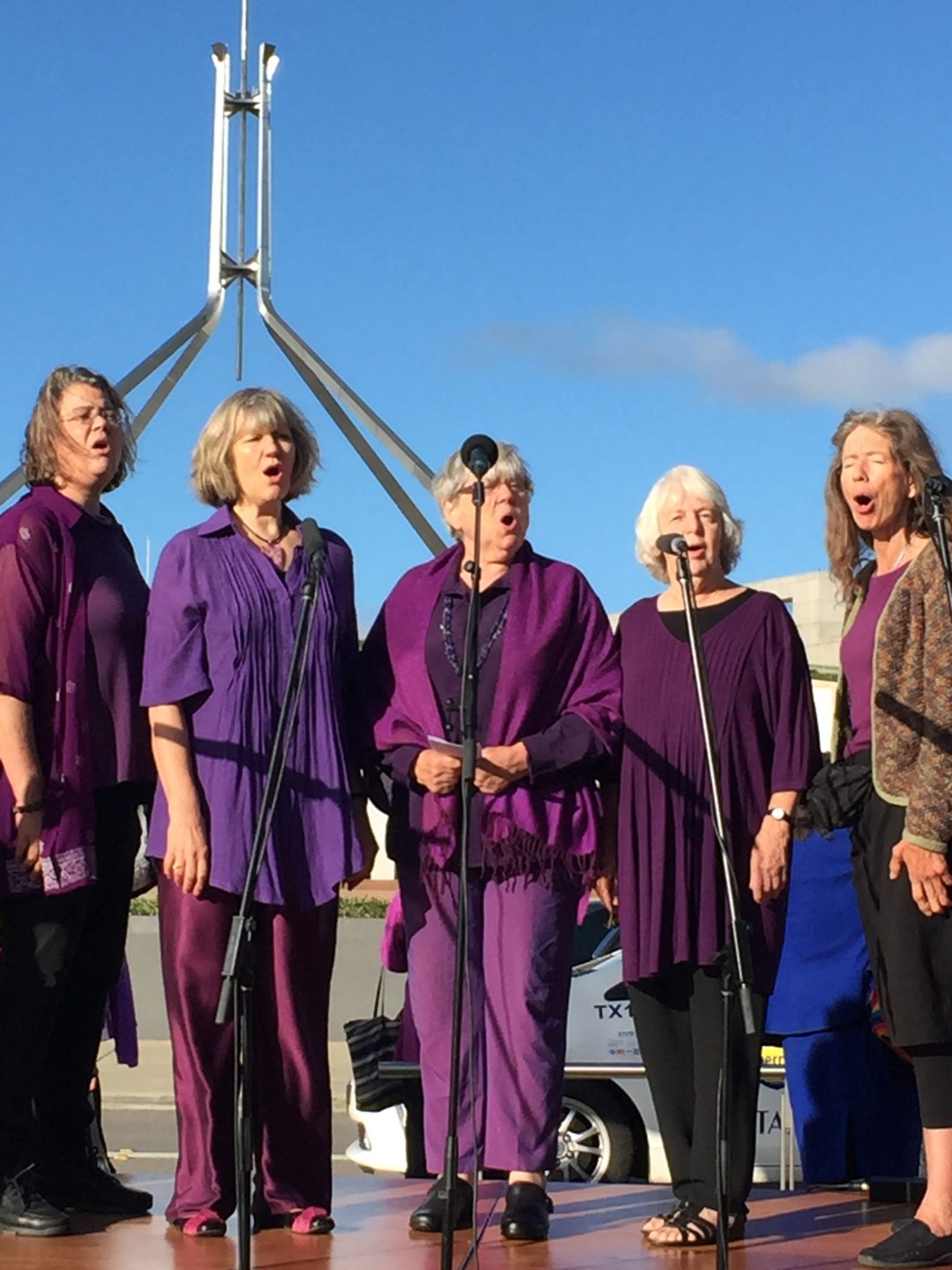 We joined the group 'Grandmothers against Detention of Refugee Children' at a 9am Rally at the lawns in front of Australian Parliament House.
They invited us to address the crowd of hundreds of grandmothers and supporters from many parts of Australia and sing our 'A Home Away from Home'. Click on the image to see a video of our singing recorded by Greens MP Adam Bandt.
Speakers addressing the crowd included Greens Senator Sarah Hanson-Young, Labour MP Melissa Clarke, Independent Andrew Wilkie and Dr. Anne Mijch, a paediatrician from Monash University. All of them spoke from the heart and with great clarity about the current situation and how we cannot allow it to continue.
The Rally was the culmination of freedom rides, the Grandmothers against the Detention of Refugee Children had organised with it's Victorian, NSW, Tasmanian and ACT branches. See their Facebook page. Read a report of the day by Suzanne McCourt.




2015
12 December - Christmas Concert
To conclude a big year, we presented a Christmas concert at the Australian Centre for Christianity and Culture on the theme 'Peace on Earth - Peace with the Earth'.

We were joined in concert by some of our city's great singers and instrumentalists.

In the first half we sang the longing for peace on Earth, in Christmas 1914 and always in selections from our big new work, A Passion for Peace by Glenda Cloughley.

The second half recalled favourite music from 12 years of songwriting for peace with the Earth by Chorus women Johanna McBride, Judith Clingan AM, Janet Salisbury, Meg Rigby and Glenda Cloughley.We sang these songs for care of the Earth, at the time when the United Nations conference in Paris conclude.

Click on the image to download a flyer.

Click here to read more news and reports about the inaugural Peace Festival and our performances earlier this year of A Passion for Peace and the Festival for Peace at Albert Hall.
29 November - People's Climate March
We joined with thousands of fellow Canberrans and people across our region on the lawns at Parliament House. We contributed some of our songs including 'Dear Earth', 'Our Footprints' and 'We Are the Weathermakers' to this big event.
The Canberra People's Climate March was part of an international community weekend of action on the eve of historic UN climate negotiations in Paris. We showed that national decision makers are out of step with ordinary Australians who are already taking action on climate change: it's time for them to follow our lead. We asked: from here on in, we're all in - are you?
Read about the event on facebook.
7 October - Book Launch 'We Are Better Than This'
Jon Stanhope, former ACT Chief Minister, launched this book at the Australian Centre for Christianity and Culture. We contributed our songs 'A Home Away From Home' and 'Lest We Forget' with special lyrics for the occasion. Click here for a flyer.
6 August - Hiroshima Day 70th Anniversary
Our friends from the Women's International League for Peace and Freedom (WILPF) invited us to join in commemorating the 70th anniversary of the bombing of Hiroshima. We gathered around the statue of Ethos in Civic Square to remember the horrific suffering inflicted by war and particularly by nuclear weapons. Sue Wareham from the Medical Association for the Prevention of War (MAPW) gave an address about a nuclear weapons ban treaty. We also sang up the spirit of the community, embodied by the statue of Ethos. Downlad a flyer here. Here you can read an article about the event by Ian Warden.

The inaugural Festival for Peace included the folloiwng highlights:
28, 30 April, 2 May - Premiere performances of A Passion for Peace
as part of the Festival for Peace, Albert Hall. Click here for more information.
29 April - Finding the Ways to Peace forum
as part of the Festival for Peace, Albert Hall
30 April - Women's Day, Women's Ways workshop
as part of the Festival for Peace, Albert Hall
1 May - Songs of Passion and Compassion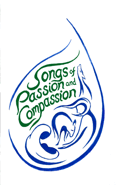 as part of the Festival for Peace, Albert Hall
A concert of music about peace-making in the wake of repetitive, unconscionable warfare; and on behalf of refugees, Indigenous peoples, animals wild and domestic, and our own Earth. We appeal for spiritual assistance for people to take the great step upward to a higher ethos for our world.
Musician-composers Judith Clingan AM, and Honey Nelson presented a program of new music, sung by a Festival Ensemble of 10 fine singers, and instrumentalists.
Musical direction Judith Clingan
2 May - Peace on Earth–Peace with the Earth forum
as part of the Festival for Peace, Albert Hall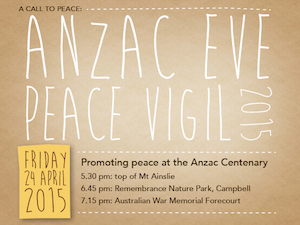 24 April - Anzac Eve Peace Vigil 2015
This special event has become a Canberra tradition over the last five years. A Chorus of Women took part in the Peace Vigil on the Eve of centenary Anzac Day, on 24 April 2015. As in previous years it started on top of Mount Ainslie, followed by a lantern parade to the foot of the mountain, and a gathering in the forecourt of the War Memorial. Click on the image for more detail.
29 March - Concert at Belconnen Arts Centre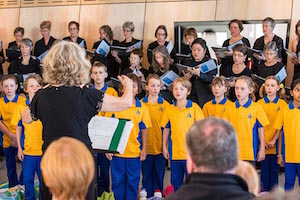 At the invitation of Belconnen Arts Centre we gave a 30 minute preview performance of excerpts of A Passion for Peace. We were joined by the children from Arawang Primary School, as well as by our musician friends including Louise Page, Angela Giblin, Christina Wilson, Jenny Sawer, Margaret Sim, Alan Hicks and David Pereira.
24 March - Launch of the Festival for Peace
ACT Minister of the Arts Joy Birch launched our inaugural Festival for Peace at the Legislative Assembly. Glenda Cloughley, composer of A Passion for Peace and our friend Elizabeth Cameron-Dalman also addressed the audience to speak about the importance of the Arts in publlic discourse.
27 February - Launch of the Centenary Exhibition of WILPF
Our sisters at the Canberra branch of the Women's International League for Peace and Freedom invited us to sing at the opening of their centenary exhibition 'Women's Power to Stop War', which was launched by Professor Marilyn Lake from Melbourne University.

2014
6 December 2014 - recording of 'We Women'
Many of the singers who had taken part in the work-in-progress performance of A Passion for Peace came together at the Belconnen Arts Centre to record 'We Women', a centenary fanfare Glenda Cloughley had written and which we presented as a gift to WILPF (the Women's International League for Peace and Freedom). The Belconnen Arts Centre generously made available the beautiful foyer space free of charge, in exchange for a public concert which we held on 29 March 2015 (see above). The video was screened at the centenary Congress of WILPF in The Hague on 28 April 2015.
11 November 2014 - work-in-progress performance of A Passion for Peace
On Remembrance Day 2014 we presented our first performance of music from A Passion for Peace at the Australian Centre for Christianity and Culture.
With a chorus of more than 30 singers and some wonderful Canberra musicians including singers Louse Page, Margaret Sim, Angela Giblin, Jenny Sawer and cellist David Pereira, we sang to a capacity audience.
Audience and singers commented on the beauty of the poetry, the expressive power of the music and the passion of the singing.
4 November 2014 - The war to end all wars: our responsibility to those who died
Chorus participated in this public forum on 4 November 2014, 7.30 pm at the Australian Centre for Christianity and Culture, which has been jointly organised by the Medical Association for the Prevention of War, Honest History, WILPF, A Chorus of Women and UNAA (ACT). See the flyer for details.
21 September 2014 - Sing for Peace, Walk for Climate
On 21 September 2014, the International Day for Peace, A Chorus of Women joined a global citizens' call for action on climate change. We started with a 'Call to Peace' in the National Arboretum, followed by a singing walk to the Village Centre, where we did a flash mob action. See here for further detail.
13 August 2014 - 'For the sake of humanity'
We participated in this multi-faith service which was held at the Australian Centre of Christianity and Culture. The Centre was filled to capacity. We brought our songs to help give voice to the emotions of of grief and empathy with all who are suffering in the Middle East. Click here to view the program.
31 July 2014 - 1915-2015: Resolutions for a Sustainable Peace — then and now
We gathered about 50 people to raise awareness of the 1915 International Congress of Women in The Hague, and of the farsighted resolutions the 1200 women unanimously passed. Many of these resolutions have since been incorporated in international institutions and law. At our event we discussed what we need to move forward to make all the resolutions a reality. As usual, we contributed our music, including a première performance of 'Resolution One' by Glenda Cloughley which is part of A Passion for Peace, our new major work:
We women, in International Congress assembled,
Protest against the madness and horror of war,
Involving as it does a reckless sacrifice of human life
And the destruction of so much that humanity
Has labored through centuries to build up.
Click here to download the report of this event.
14 July 2014 - VOICE
This event was presented by Women in Action at Smith's Alternative Bookshop, to celebrate the singing, poetry and drama performances of Canberra's women. Among the contributors were Alison Proctor of the Canberra band 'The Cashews' with her sister Suze, Jackie Sutton of UN Women and Hazel Hall with the School of Music Poets. Click here for a report by Dannielle Abbou-takka about this inspiring evening and A Chorus of Women's contribution.
27 May 2014 - Book launch - The human capacity for change
Chorus sang at the book launch of 'The human capacity for transformational change—harnessing the collective mind' by great chorus friends Valerie Brown AO and John Harris. The Hon. Barry Jones AO launched the book to a full house at the Great Hall of University House. The book explores ways to harness different ways of thinking across usual disciplinary and social divides to develop a richer understanding of the world. Chorus makes an appearance on page 179 of the book in a case study about Canberra Conversations. As was appropriate for 'harnessing the collective mind', Chorus sang 'We are the people — so many different voices' and 'Ubuntu'.
10 May 2014 - Acknowledgement of Country at the Canberra International Music Festival
We were again invited to sing the Acknowledgement of Country, this year for the opening of the 20th Anniversary Gala concert of the music festival. With this song with words by local poet Hazel Hall and music by Glenda Cloughley we want to help deepen the meaning and significance of our respect for the first inhabitants of this country. We were accompanied by the Wallfisch Band, an internationally acclaimed baroque ensemble.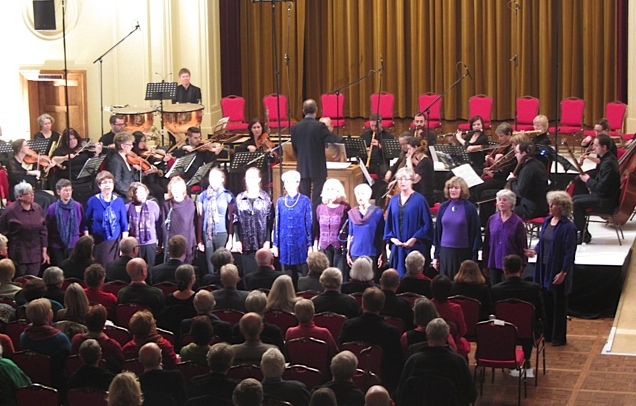 30 April 2014 - Launch of the National Energy Efficiency Network
A Chorus of Women sang at the Canberra launch of the National Energy Efficiency Network. A comment from the audience: "Their singing was wonderful!! ... You lifted the roof of the Great Hall at Uni House & every heart of those sitting in it"
24 April 2014 - Anzac Eve Peace Vigil
We again took part in this event organised by Graeme Dunstan, which has become a Canberra tradition. See our Highlights page for more detail for more detail.
15 April 2014 -'Remembering War - Seeking Peace', A Canberra Conversation
At this conversation at Manning Clark House we explored questions about how we can best respect the memory of those killed or traumatised by war , including Aboriginal people during Australian settlement. Click here to read more and a report of the event.
13 April 2014 - Break the Silence - Rally for Refugees
We brought a number of heartfelt songs, two of them written especially for this big event, where more than 3000 Canberra citizens gathered to express their dismay with the lack of empathy towards asylum seekers evident in the current political climate. See our highlights page for more detail.
30 March 2014 - Weereewa Festival
We sang at Gorman House before a performance of Mirramu Dance Company entitled 'Walking on Water and Other Miracles'. One of the highlights was accompanying our friend Andrew Purdam in a beautiful arrangement of Fred Watson's 'Under Australian Skies' he had written for A Chorus of Women.
6 March 2014 - AEU International Women's Day
The ACT branch of the Australian Education Union invited us to contribute songs to their International Women's Day event which had the theme Inspiring Change. Robyn Martin, the manager of Beryl Women's Refuge and Jane Thomson, adviser to the Human Rights Commission gave addresses. Our songs included a version of Lest We Forget which acknowledges the web of connections women weave in our communities. The event concluded with singing Ubuntu where we invited everyone to join us.
3 Feburary 2014 - Opening Ceremony of the ACT Law Society
We were invited to sing for the opening ceremony in the Great Hall of the ANU and were pleased to sing 'I Am Ethos', 'We Are the People' and other songs in front of a beautiful image of Ethos who forms a central part of the Law Society's logo.
2013
17 – 19 December 2013 – 'So Good a Thing' Festival by Judith Clingan AM
We joined hundreds of other enthusiastic singers and musicians who gathered from far and wide at the Albert Hall to celebrate the musical enrichment of our lives through music making with Judy over the previous fifty year period in Canberra. On 17 December we presented a concert of songs from our repertoire. You can watch Judy Clingan's 'Tree of Life' and Glenda Cloughley's 'A Recipe for Peace' on YouTube. On 19 December a Chorus ensemble presented excerpts from The Gifts of the Furies by Glenda Cloughley. Click here to read Judy's account of her involvement with A Chorus of Women.
10 December 2013 - Musical Offering thank you drinks
Glenda Cloughley and Johanna Mcbride receive certificates from Don Aitkin at a party held on 10 December 2013 for participants in the Musical Offering program which organised free concerts every day of Canberra's Centenary year of 2013. A Chorus of Women participated on a number of occasions, ranging from full Chorus representation to small ensemble concerts.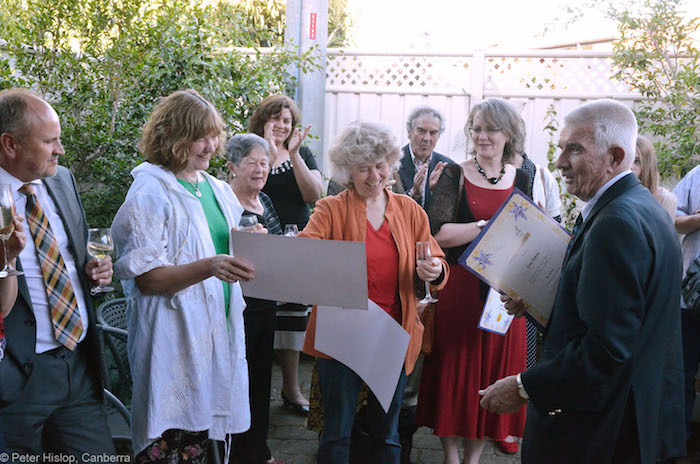 1 December 2013 – Seasons of Renewal: Lawsongs in the High Court
Chorus presented this concert to sing up the laws of harmony, life and Earth with some of our wonderful musician friends in the beautiful space of the High Court foyer, as part of the Canberra Centenary Musical Offering series. See our highlights page for more details about the concert.
1 – 3 November 2013 – chOir-tly LOUD Festival of Song, Wollongong
Chorus joined many other choirs and singing groups from our region for a festival of song to 'celebrate the phenomenon of creating and sharing choral music in the community' in Wollongong, NSW. Chorus sang Acknowledgment of Country at the opening of the Gala concert at the Wollongong Town Hall, and gave performances at a restaurant and on the beach foreshore. Johanna McBride and Chorus also led massed singing of Ubuntu at the opening event of the festival, in the City Mall and at the final gathering of choirs at the beach foreshore.
19 September 2013 – Words for Peace Awards Ceremony, WILPF
In the lead up to the International Day of Peace on 21 September 2013 the ACT Branch of the Women's International League for Peace and Freedom's held a competition for young people, initiated by our Annie Didcott. It was called Words for Peace. At the competition awards ceremony at Gorman House, Chorus contributed some peace songs and gave vocal support to young Katy Larkin who sang the prize winning song 'Harmony' she had written for the competition.
6 September 2013 – National Palliative Care Conference
We sang to delegates of the National Palliative Care Conference in the Royal Theatre, National Convention Centre. At the end of our presentation in this moving closing ceremony we invited everyone to join us in singing Ubuntu.
16 August 2013 – DANscienCE Performance at CSIRO Discovery Centre
Chorus provided musical support to DANscienCE, a festival which brought together Australian dance artists and scientists, by singing She Spins by Meg Rigby.
15 August 2013 – Service of Lament for Asylum Seekers
Chorus provided the music and led the singing at this service, held at the Australian Centre for Christianity and Culture. Together with those who gathered we gave expression to our shared sorrow at the failure to find a humane response to the plight of asylum seekers. Click here to read more.
28 July 2013 – Canberra Centenary Conversation: Our Canberra
For this Canberra Conversation, which was part of Canberra's Centenary Program, we met at the Margaret Whitlam Pavillion at the National Arboretum. Viewing Canberra in its landscape from this new vantage point we pondered who we are and creatively explored a re-imagining of our 'ideal city'. Click here to read more.
10 May 2013 – Canberra International Music Festival
Chorus led a massed choir singing of Acknowledgement of Country (words by Hazel Hall, music by Glenda Cloughley) at the Opening Concert of the Canberra International Music Festival.
24 April 2013 - Anzac Eve Peace Vigil
Chorus joined this annual event, gathering on top of Mount Ainslie at sunset of Anzac eve for a ceremony, a procession down the Mount Ainslie walking track with lanterns, singing at Remembrance Park and a lantern walk down Anzac Parade. Click here for a flyer of the event.For more information about Anzac Eve Peace Vigils click here.
24 March 2013 – The Four Elements Festival, Mirramu Creative Arts Centre
We sang at the Festival Finale Family Concert, Gathering Storm, of this Centenary of Canberra event celebrating excellence in regional arts, at Mirramu Creative Arts Centre beside Lake George.
19 March 2013 – Citizens' Candlelight Vigil for truth and justice: 10 years on from the invasion of Iraq
We participated in a moving candle light gathering at Commonwealth Place Ampitheatre to a gathering of Canberra citizens. Ms Hanaa Edwar, Secretary General of the Iraqi Al-Amal Association, a humanitarian association in Iraq, spoke at the event, saying "Iraqis' only hope is to once again live a normal life. Their lives have been completely changed by this war." For more information click here.
19 March 2013 - 'Open the Doors of the Chambers': Chorus 10th Anniversary Concert at Parliament House
We returned to the foyer of the Australian Parliament House, where Chorus began on 18 March 2003, to give a lunchtime concert of songs selected from our repertoire which has developed over the last 10 years. An English visitor in the foyer was reported to say that '[this] would never happen in British Parliament'. See our highlights page for more information.
16 March 2013 - Chorus 10th Anniversary Party
We gathered with friends and supporters to celebrate our 10th anniversary at the Bogong Theatre, Gorman House.
13 March 2013 – Medical Association for the Prevention of War Dinner: Why did we go to war in Iraq? The need for an enquiry
Chorus contributed a number of songs to this event at Vivaldi Restaurant, ANU Arts Centre. We sang our first song, the 'Lament', positioned among the audience, and invited everyone to join us in our song 'When People start to sing, thing are changing'.
4 January 2013 – Canberra Centenary Musical Offering at the National Library
A Chorus ensemble concert in the foyer of the National Library of Australia was the first of two 2013 Chorus contributions to 'The Musical Offering – a gift from the Canberra musical community to mark the city's centenary'. The Canberra Times reported this event.

2012
7 December 2012 - Eco Elves Night Market
The Canberra Environment Centre held this Christmas market, featuring ethical and eco-friendly Christmas presents and food. We sang songs for the occasion and sold home produce to help raise funds for Annie Didcott's 'Words for Peace' initiative (click here for a flyer).
18 November 2012 - Recipe for Change Lunch
Chorus member Glenda Cloughley hosted a lunch for A Chorus of Women and friends as part of the 1 Million Women 'Recipe for Change' campaign. We shared food, songs, and ideas about saving energy, cutting waste and living more sustainably.
Phoebe Howe from 'Canberra Loves 40 Percent' and CSIRO scientist Dr Nicky Grigg spoke about political and personal aspects of change towards sustainable living.
The women present included politicians, journalists, acitivists, young students and an Aboriginal elder. Chorus member Dr Janet Salisbury facilitated a lively conversation with many heartfelt and thoughtful exchanges about the challenges of avoiding dangerous climate change.
9 November 2012 - Empire at ANU Arts Centre
A Chorus of Women sang the Lament at the beginning and When People Start to Sing at the end of a performance of the play Empire by the Kinetic Energy Theatre Company from Sydney. The play is nspired by the writings of Noam Chomsky and Arundhati Roy.
8 July 2012 - Poets for Peace
Some of our leading Canberra Region poets presented their works for peace and reconciliation in a troubled world. Contribtutors included John Collard, Hazel Hall, Sandra Renew and Fiona McIlroy.
A Chorus of Women was invited to present songs of lament and longing to this event at Manning Clarke House, Tasmania Circuit, Forrest.
24 April 2012 - Anzac Eve Peace Vigil
A Chorus of Women gathered musicians and poets for the second of Canberra's beautiful lantern-lit Anzac Eve Peace Vigils. Click here to read more.
29 March 2012 - 100 % Reneweable Energy Rally at ANU
A Chorus of Women brought songs about the environment to a rally for solar energy and other renewable energy sources in the ANU union court. The event was organised by the Climate Action Coalition. Most of the songs were designed for audience participation.
10 March 2012 - Wayfarers Choral Prom - Live to Sing Sing to Live
A Chorus of Women participated in this inspiring community music making event, which was a fundraiser for Judith Clingan's Wayfarer International Tour (for details see wayfarersaustralia.org). Other participating groups were SCUNA, Canberra Choral Society, Llewellyn Choir, Ecopella and the host choir, Wayfarers. We sang our songs and told our story to the receptive audience. There was much sharing of musicians and choristers among choral groups and combined music making. The evening ended in all present joining to sing our song Ubuntu.
2011
15 December 2011 - 50th anniversary celebration of the Ethos sculpture
This event included songs, stories and ceremony to renew the meaning of Ethos as the spirit of our community. Click here to read more.
30 October 2011 - The Gifts of the Furies in church
We presented a special version of Glend Cloughley's story song as an act of worship at City Uniting Church in Canberra to around 200 people. Click here to read more.
23 August 2011 - Dialogue gathering at the ANU Centre for Dialogue
Chorus, led by Janet Salisbury gave an informal demonstration of our way of holding conversations, with open dialogue and musical contributions.
1 August 2011 - Canberra Conversation 9: FROM PROMISE TO ACTION: How will we turn the tide on Canberra's carbon emissions?
This Canberra Conversation asked questions about what needs to happen to achieve the ACTs legislated target of reducing greenhouse gasses by 40% by 2030. Click here to read more.
5 June 2011 - Climate Change Bridge Walk
We gathered a spontaneous Citizens' Chorus for this big rallye against climate change, attended by thousands of Canberrans. Following addresses by speakers including John Hewson the crowd joined with us in singing our song 'We are the generation that needs to take a stand. We are the weathermakers, our future's in our hands."
31 May 2011 - Canberra Conversation 8: FILLING IN CANBERRA: Can a denser city still be 'a home among the gum trees'?
This Canberra Conversation focussed on the challenges of accommodating the increase of Canberra's population expected by 2030, the merits of 'well designed' urban infill versus urban sprawl. Developer Nectar Efkarpidis and Maxine Cooper, Commissioner for Sustainability and the Environment gave presentations. Click here to read more.
24 April 2011 - Inaugural Anzac Eve Peace Vigil
Around 150 people gathered on top of Mount Ainslie at sunset of Anzac eve for a ceremony, followed by a procession of lanterns down Mount Ainslie. This was followed by singing at the foot of Mount Ainslie and a lantern walk down Anzac Parade. A particularly moving aspect of the Peace Vigil was the connection with members of the local Aboriginal community who participated in the event in the spirit of reconciliation. Click here for a flyer of the event. Click here to read Annie Didcott's account of last year's event written for WILPF.
8 March 2011 - Bridge Walk for the 100th Anniversary of International Women's Day
A Chorus of Women was part of this happy occasion, contributing songs and leading some spirited community singing.
2010
1 December 2010 - Canberra Conversation 7: CANBERRA - CELEBRATING 2010 AND IMAGINING 2030: What could be possible when Canberra citizens, business and government work together to co-create a sustainable city?
We celebrated 2010 as the year that the ACT set a 40% emissions target for 2020 and started a bold community dialogue about the future of Canberra — Canberra 2030: Time to Talk. Click here to read more.
4 November 2010 - Conference of the ACT Council of Social Services
This conference at CIT Reid focussed on the theme 'defining diversity'. Our songs focussed on different voices and stories in the community and the search for harmony.
11, 18 and 25 September 2010 - performances of "The Gifts of the Furies"
in partnership with the Museum of Australian Democracy we staged three fully booked performances with a cast of 80 in Kings Hall and the House of Representatives in Old Parliament House. Click here to read more.
4 September 2010 - Climate Change Forum at Canberra City Uniting Church
In the lead up to our 2010 season of The Gifts of the Furies we gathered a Citizens' Chorus to present excerpts of the work for this forum with guest speakers John Williams and Bishop George Browning.
27 May 2010 - Canberra Conversation 6: Canberra's future: Thinking together about sustainability, development and growth
This Canberra Conversation explored what a 'sustainable' future for Canberra might look like, focusing on development of the built environment in Canberra. Click here to read more.
6 May 2010 - ACT Launch of 1,000 000 Women Campaign
The campaign was launched by the founder Natalie Isaacs and compered by Alex Sloane from ABC Radio 666 Canberra. We offered songs on climate change and led all present in some community singing. Click here for more information about the 1,000 000 Women Campaign.
28 April 2010 - 95th Birthday of WILPF
Chorus contributed a number of songs to this anniversary of the Women's International League for Peace and Freedom. It also featured a lecture by Professor Marilyn Lake entitled "Rediscovering Australia's Peace History".
4 March 2010 - Canberra Conversation 5: Finding wisdom on climate change across the political divide
This Conversation deailt with the debate in Australia about emissions trading and the outcomes of the Copenhagen summit. Click here to read more.
9 February 2010 - Australian Science Communicators National Conference
Chorus sang excerpts of The Gifts of the Furies preceding Will Steffen's plenary talk at the start of the 'Hot Air Symposium' and gave a workshop entitled 'The Art and Science of Dialogue'.
2009
11 December 2009 – Launch of 'The Gifts of the Furies' premiere performances CD setin March 2009
Historian and religious commentator Dr Paul Collins launched the double CD set of the March 2009 performances of "The Gifts of the Furies" at University House. Chorus sang excerpts from the work at the launch.
4 December 2009 – Release of the ACT Planning and Land Authority Sustainable Future Workshop Discussion Paper
Chorus was invited to sing at the launch of the publication by Minister Andrew Barr at Black Mountain Tower. Chorus also sang at one of the workshops, which were the basis for this publication (on 1 December 2008).
22 November 2009 - RIVER: just add water
Chorus member Dr Nicky Grigg chaired a public forum at The Street Theatre, with invited speakers Dr Richard Greene, Dr Peter Fletcher and Dr Michael Raupach. She also sang a song written by chorus member Glenda Cloughley, with the lyrics ' How to tell my girl what the climate science says?', accompanied by A Chorus of Women and cellist David Pereira (click here for complete lyrics). The forum preceded the dance performance "River" by the Mirramu Dance Company.
26 October 2009 – Canberra Conversation 4: Transport for the Canberra community: thinking together about wise moves
This conversation sought to unravel the complexities of this topic and stimulate innovative ways forward. Click here to read more.
24 October 2009 – Judith Clingan Concert for 350.org International Day for Climate Action
We combined with Judy's Wayfarers at the Canberra Museum and Gallery to sing a program of songs about care for the earth. The concert was followed by a screening of Judy's music theatre work Terra Beata - Terra Infirma (Blessed Earth, Ailing Earth) which she had written 20 years ago.
23 August 2009 – Canberra Conversation 3: Science and the creative arts: a potent collaboration for change?
The third Canberra Conversation was hosted by Chorus as part of National Science Week and held at the CSIRO Discovery Centre. Prominent local scientists and artists were invited to contribute. Click here to read more.
11 June 2009 – Violent Ends: The Arts of Environmental Anxiety
Chorus contributed to an event at the National Museum convened by Carolyn Strange from the Research School of Humnanities, Australian National University which sought to explore the feelings of dread related to the threats of global warming, as well as ways to hope. Click here for more information about the event. Click here for Chorus' operning contribution. Click here for the closing performance, 'Reconciliation'.
26 May 2009 – Canberra Conversation 2: Emissions Trading - our way forward to greenhouse gas reductions?
This was the second in the series of 'Canberra Conversations', hosted by Chorus in collaboration with the ANU Climate Change Institute. It revolved around the current political debate about the emissions trading scheme and other ways in which Australia can find the cuts in greenhouse gases that are required to avert dangerous climate change. Click here to read more.
29 & 30 March 2009 – Premiere Performances of 'The Gifts of the Furies'
The premiere performances of The Gifts of the Furies were presented by A Chorus of Women with Wayfarers Australia and other choristers under the musical direction of Johanna McBride and Judith Clingan AM. After both performances the audience was invited to a conversation with the composer, performers and Chorus. Click here to read more.
28 March 2009 – Two Fires Festival of Arts and Activism, Braidwood
Glenda gave a paper and chorus sang excerpts from 'The Gifts of the Furies'.
5 March 2009 –International Women's Day Lunch
Chorus was invited again to sing at UNIFEM's International Women's Day Lunch in Canberra. Guest speaker was Fozilitun Nessa.
26 February 2009 – Canberra Conversation 1: Canberra's energy future: thinking together about ways forward
The first of a series of public dialogue events initiated by Chorus on topics of importance for our future, which seek to explore diverse perspectives on issues and try to find common ground that can inform wise actions. This conversation was held in collaboration with the ANU Climate Change Institute and explored the topic of stationary energy production and use in Canberra. Click here to see a review of the conversation by one of the participants. For more information on Canberra Conversations, the thinking behind the series and how they are conducted (including the contribution made by artistic input contributed by Chorus), click here.
2008
4 December 2008 - Woden SEE-Change workshop 'I'm Dreaming of a Green Christmas'
In the lead up to Christmas Chorus contributed a bracket of songs, including some well known Christmas songs with new lyrics to this workshop focussing on reducing consumption. The audience joined in enthusiastically.
1 December 2008 - ACT Planning Commission culture and knowledge workshop
Chorus was invited to sing at the conclusion of a presentation by Dr Kate Rigby entitled Culture and Environment: Historical perspectives and Canberra's future. We sang 'Lament for Gaia' and 'Dreaming' from the Songs to the Earth by Glenda Cloughley, as a contribution to the workshop's focus on 'Sustainable Future'.
14 October 2008 - Inaugural 1325 Anniversary Lecture
Felicity Hill presented this lecture for the Women's International League for Peace and Freedom at the ACT Legislative Assembly. We contributed several songs for peace.
12 October 2008 - Get Up Climate Torch Relay in Canberra
Chorus sang at the presentation ceremony on the lawns of the Australian Parliament House. This was the culmination of a national Get Up campaign to raise awareness of climate change.
28 August 2008 - National Library 40th birthday event honouring Tom Bass
One of the most delightful occasions in our history was to sing 'I Am Ethos' to 92-year-old sculptor Tom Bass. This was a surprise gift from 15 Chorus women of Glenda Cloughley's musical setting of Tom Bass' poem as an anthem for Canberra.
22 August 2008 - Longing for Wisdom on our Changing Climate
Our contribution to National Science Week drew on a wisdom story from the European tradition as a response to current political and ethical dilemmas surrounding climate change. The Chorus was joined by Dr. Janette Lindesay, Associate Professor of Climatology in the Fenner School of Environment and Society, ANU.
20 June 2008 - Climate Change and the Crisis of Reason
At this symposium to honour the life and work of Dr. Val Plumwood Chorus joined Glenda Cloughley in presenting excerpts from 'The Gifts of the Furies' and a case for consulting ancient European teachings about right relations between culture and nature.
23 April 2008 - WILPF Anniversary - 93 years. What have we learned?
A Chorus of Women sang the Lament we began with and other songs to accompany papers by WILPF International Vice President Felicity Hill, 'Women Building a World without War', Australian War Memorial historian Janette Condon, 'Changing Attitudes of Soldiers to War' and Glenda Cloughley, 'Mothering Peace'. Click here to read Glenda's paper.
6 March 2008 - International Women's Day Lunch
Chorus sang three rousing songs for peace to 900 guests at the 2008 UNIFEM IWD lunch.
10 February 2008 - SEE Change picnic
Chorus songs about climate change added music to this community event. Its purpose was to celebrate the steps SEE-Changes groups are making to ignite meaningful action in Canberra suburbs on issues such as climate change
8 February 2008 - The Gifts of the Furies
This was a work-in-progress performance of Glenda Cloughley's new epic story song about the crisis of climate change for Canberra Jung Society. The work is based in part on the Oresteian Trilogy of the ancient Greek poet Aeschylus.
2007
11 November 2007 - Walk Against Warming
We met a number of times to think what we could contribute to this big event. We wrote some lyrics around the kitchen table, went home and wrote a number of original songs, among them 'The Weathermakers', inspired by Tim Flannery, and 'Our Footprints'. On the day we joined thousands of concerned Canberra citizens.
21 September 2007 - Spring Sing!
A Chorus of Women put out an invitation to Canberra's singing community to form a citizens' chorus and join a singing walk through Civic for the International Day of Peace. The event was supported by UNIFEM. Over 150 Canberra singers took part. For more details click here.
18 and 19 August 2007 - On the Edge of Silence
Two presentations of our performance work about emotional and ethical dimensions of the climate change crisis were given in Canberra as part of the National Science Festival.
25 May 2007 - Atmosphere of Hope Art Exhibition
20 Chorus women welcomed a large group of artists from the South Coast of New South Wales to Canberra. We sang six original songs by Chorus women about living in harmony with the earth, in keeping with the moving themes of the paintings and sculptural works shown in the ACT Legislative Assembly.
1 April 2007 - Two Fires Festival Braidwood
We presented the original version of 'On the Edge of Silence' as a 'poetic response to the crisis of climate change' in St. Bede's Church in Braidwood. The Two Fires Festival is held biennially and celebrates and continues the lifework of Judith Wright in arts and activism.
9 March 2007 - Canberra IWD UNIFEM Lunch with Malalai Joya MP
We sang 'Love Has a Voice', composed especially for this occasion to honour Malalai Joya, the young Afghan parlamentarian who was UNIFEM's guest of honour at Rydges Lakeside Hotel. See Songs page for lyrics. You can listen to a recording of the song on sound cloud.
8 March 2007 - ACT IWD Awards
A Chorus of Women were invited to present the program of songs we called 'Celebrating Women' at the ACT Legislative Assembly for Canberra's annual awards to honour women's achievements in the city.
1 March 2007 - WILPF ACT Festival of Peace Booklet Launch
A Chorus of Women contributed songs to this Women's International League for Peace and Freedom event at the ACT Legislative Assembly.
24 February 2007 - Garden Party for Emily's List, ACT
A Chorus of Women were invited to sing at a garden party for the ACT members of Emily's List. We presented three songs collectively titled 'Songs for Politicians' to encourage our women representatives in both the ACT and Australian parliaments to listen carefully to the voices and the longings of the people they represent.
2006
11 December 2006 - Launch of 'Giving Voice', the first CD of A Chorus of Women
Giving Voice is a compilation of 15 songs reflecting the concerns and creativity of A Chorus of Women. The CD was launched by ACT Senator Kate Lundy at the ACT Legislative Assembly. To order a copy of Giving Voice click here to download an order form. For more details see the Highlights section above.
2 December 2006 – New Songs for Love of the World
Chorus sang three new songs composed by members in the month before For Love of the World, an interfaith call to action on climate change attended by 250 people at the Australian Centre for Christianity and Culture. Other presenters were poet-cartoonist Michael Leunig, Bishop George Browning, local farmer Alexa Barr, three children, scientist Dr Mike Rapauch and Graham Tupper from the Australian Conservation Foundation.
11 November 2006 – Songs for Remembrance and Renewal
Chorus presented a half-hour concert, including new lyrics to some of our songs, for Remembrance Day. The concert in St Paul's Anglican Church Manuka, Canberra, took place during the church community's fete.
24 October 2006 – 30 years on – How Safe Are We?
At the launch of exhibitions marking 30 years of Reclaim the Night and addressing issues of domestic violence and sexual violence towards women and children, Chorus sang songs and poetry prepared especially for the occasion. The exhibitions were jointly organised by Canberra Rape Crisis Centre and the YWCA Of Canberra.
15 October 2006 – SIEV X Memorial event
With 250 community groups from around Australia, Chorus members painted a large memorial pole and participated in a moving pole-raising ceremony commemorating the 353 lives lost when a refugee boat sank while seeking safety in Australian waters in October 2001.
24 September 2006 – Sydney Peace Festival – Peace Concert
Chorus members travelled to Sydney to sing in a rally for peace at the University of Sydney, organised by Ministry for Peace – Australia.
21 September 2006 – Peace in our Time? – a musical peace happening
In this concert organised by Judith Clingan to mark International Day of Peace, Chorus presented seven songs in a rich program featuring numerous Canberra music groups.
17 September 2006 – Merry Muse Folk Club
Chorus sang a bracket of songs for peace at Canberra's folk club.
4 and 19 August 2006 – Sharing Grief – Breaking Bread
To express our grief and solidarity at the height of the conflict between Israel and Hezbollah, Chorus led two symbolic acts of sharing and reconciliation. We gathered with others in the pedestrian mall, walked to the statue of Ethos in Civic Square and shared bread, singing our new song for the occasion, A Recipe for Peace.
3 July 2006 – Neshan - 2006 International Exhibition of the Badge
Chorus sang at the opening of this exhibition organised by Ardeshir Gholipour, an Iranian artist and journalist living in Canberra on a temporary protection visa.
30 June 2006 – Phoenix Rising, Forrest Fire Station Museum, Canberra
Vera Sapov, a Chorus member, co-ordinated this exhibition of work by Canberra artists about the 2003 Canberra firestorm. Chorus spoke and sang excerpts from Websong and Glenda Cloughley opened the exhibition.
2 June 2006 – Democracy and the People's Chorus
In this lecture-performance for Canberra Jung Society, Chorus presented songs and stories and led a conversation with the audience.
8 March 2006 – Polychromatica Art Exhibition Opening
Chorus sang at this opening of works by local women artists at the M16 Gallery.
2005
13 November 2005 – Picnic at Peace Park
Chorus members and friends gathered to celebrate peace with flowers, song and shared food at the little-known Peace Park in Canberra's parliamentary triangle.
30 October 2005 – ArtSound Radio project
Local community radio ArtSound produced a program exploring women's participation in Canberra choirs. The Chorus songs and a conversation with 20 Chorus women recorded in October 2005 went to air on 20 May 2006.
19 October 2005 – SIEV X Memorial Event
Chorus sang at this moving meeting in Pilgrim House, Canberra, which marked the fourth anniversary of the sinking of the SIEV X refugee boat on its way to Australia, when 353 people drowned.
17 and 22 October 2005 – WILPF 90th Anniversary celebrations, Civic Square
Chorus participated in the opening ceremony of the week-long Festival of Peace which marked the 90th anniversary of the Women's International League for Peace and Freedom. The Festival was sponsored by women MLAs of all parties in the Legislative Assembly. We also gave a major 40-minute presentation of songs and stories; corresponded with Tom Bass, the 90-year-old sculptor of Canberra's beloved Ethos sculpture, which resulted in him sending a peace poem to Canberra citizens in the voice of Ethos; and we joined with a group from Sydney Chorus of Women who sang on the final day of the festival.
24 & 25 September 2005 – Websong at the Bloom Festival
Chorus performed Websong as part of the Bloom Festival, a music festival organised by the brand new Music ACT Association to coincide with Floriade 2005.
13 August 2005 – 60th Anniversary of the United Nations – Conference
A Chorus of Women was invited to open a conference at the Australian National University to celebrate the 60th anniversary of the UN Charter. The conference was organised by the United Nations Association of Australia. Chorus contributed a presentation entitled "We The Peoples". You can view the program here.
15 May 2005 Australian Democrats National Conference
Chorus presented a performance piece incorporating music and narrative, with content developed specifically to address issues being faced by the Democrats. Reports on the Conference can be seen on the Australian Democrats website.
20 March 2005, Two Fires Festival of Arts and Activism, Braidwood
Chorus presented "Building a Chorus" – a blend of songs, story and drama – at this 4-day festival inspired by Australian poet and activist Judith Wright.
21 February 2005, 20th anniversary of the transfer of education of Registered Nurses in Australia to higher education.
Chorus sang at a dinner hosted by the Council of Deans of Nursing and Midwifery at Parliament House to celebrate this anniverary.
22–23 January 2005, 60th birthday celebrations for Judith Clingan
Chorus participated with many other musicians, artists and other friends of Chorus member Judith Clingan in celebrations marking her 60th birthday.
2004
10 December 2004, International Human Rights Day Symposium, Brisbanea
Five Chorus members sang and presented a modified version of Glenda Cloughley's Temenos lecture (2004) at a symposium hosted by Griffith University's Centre for Public Culture and Ideas. The theme of the day was "Human Rights and the Creative Arts".
1 December 2004, Women's International League for Peace & Freedom (WILPF) website launch
Chorus sang at the launch at Parliament House of a website developed by WILPF Australia about UN Security Council Resolution 1325 on Women, Peace and Security. This Resolution highlights the impact of war and conflict on women and girls, and the importance of women's involvement in peace building.
1 November 2004, Remembrance Ceremony
Chorus sang at the annual Drug Law Reform ceremony in Canberra for people who have died through illicit drugs.
30 October – 21 November 2004, Barbara Blackman Temenos Foundation events
Chorus presented Websong at the Art Gallery of New South Wales, National Gallery of Australia and National Gallery of Victoria following Chorus member Glenda Cloughley's 2004 Temenos Lecture, Lament and Renewal in Temenos Oz, respectively on 30 October, 6 November and 20 November. The Chorus Temenos lecture-performance 'A Chorus of Women: Archaeomythic Memory and Present Desire' presented at the Sydney Theosophical Society, Great Hall of University House, ANU (presented jointly with the Humanities Research Centre, ANU) and National Gallery of Victoria, respectively on 30 October, 9 November and 21 November. Cilck here for a
transcript (760kb).
7 October 2004, Singing for the bereaved in our community
Chorus sang at the funeral of Kim Reilly, a close relative of a Chorus member.
7 and 8 August 2004, Websong presentation, Canberra Oneira Festival
Websong was presented twice in the James O. Fairfax Theatre, National Gallery of Australia, during the Oneira Festival of the Arts preceding the 2004 Greek Olympic Games.
11 August 2004, Protect Our Democracy Rally
Following the High Court decision confirming the legal indefinite detention of asylum seekers, Chorus sang at this rally to encourage the Australian Government to adopt more humane legislation.
13 June 2004, Websong performance, Sofia
The travelling chorus presented Websong at the Boris Christoff Music Centre, Sofia.

2–12 June 2004, Artists-in-residence, International Archaeomythology Symposium
Eleven members of Chorus presented most of the Chorus repertoire and Websong during an international symposium in Sofia and Rila, Bulgaria organised by the Institute of Archaeomythology, New Bulgarian University and National Museum of History, Sofia.
23 May 2004, Sisu Soirée preview presentation of Websong
Eleven travellers presented Websong at the Canberra home of Barbara Blackman to assist with fundraising for Bulgaria.
2 May 2004, A Chorus of Women In Concert, Canberra Museum and Gallery
This concert raised funds for creative development of our performance and ceremony work Websong and for travel to take up Chorus's appointment as artists-in-residence at an international symposium in Bulgaria organised by the Institute of Archaeomythology, New Bulgarian University and National Museum of History, Sofia, 2nd–13 June.
8 May 2004, Singing with midwives in celebration of International Midwives Day
Twelve members of Chorus joined members of the ACT Branch of the Australian College of Midwives to learn and sing 'Sweet is the Milk' at The Birth Centre, Canberra Hospital.
April 29 2004, Singing for Mariam
Chorus sang at the ACT Legislative Assembly in support of Mariam Rawi's work with RAWA in Afghanistan.
22 April 2004, Launch of the poster for the Oniera Festival
Chorus sang at the Greek Embassy to launch the poster for Oniera - Evolution of Dreams, a celebration of the arts in Canberra in the lead-up to the Athens Olympics.

5 March 2004, Safe As...
At the Kurrajong Hotel, Canberra. Chorus performed 'Man of Cloth' and other songs to a group who were reflecting on improper conduct within the Church in hope that attitudinal change and appropriate action could be initiated.
February 2004, The Foyer Concerts, National Multicultural Festival
Chorus gave concerts in the foyers of Australian Parliament House, the Australian War Memorial and the ACT Legislative Assembly. At Parliament House, in response to a letter from the Joint House Department forbidding Chorus to sing 'Children of Iraq' and 'Your Cry Our Cry' 'or any other songs relating to personal or political freedoms', Chorus complied with the ban and used purple scarves to gag words of songs relating to 'personal or political freedoms' This action received national media coverage. The Department head and Speaker of the House, Neil Andrew, said a mistake had been made and that such a restriction would not be made in future.
2003
2 December 2003, 'Peace on Earth!' concert for Parliamentarians for Peace
A special concert was arranged to support and encourage Parliamentarians for Peace in our first return to the Main Foyer of Parliament House.
25 November 2003, 'Late Night Live' interview, Radio National
Phillip Adams interviewed Glenda Cloughley and Judith Clingan about the action on 18 March and subsequent Chorus activities. We sang 'Lament' and 'Call to Peace'. The interview and songs went to air again during the summer holiday period.
23 November 2003, International Day for the Elimination of Violence Against Women, Amnesty International Australia.
Members of Chorus presented a selection of songs for this event.
15 November 2003, 'Music from Far and Near', Austcare night, Tilleys
Songs from our repertoire helped raise funds for the work of Austcare in a benefit night hosted by Fred Smith at Tilley's Devine Cafe Gallery, Lyneham.
5 November 2003, 'On the Rim ... Looking In' Pottery Exhibition Opening
Several Chorus songs and spoken text contributed to this opening of pottery by the RIMS Ceramics Group at Watson Arts Centre.
27 October 2003, Remembrance Ceremony
Chorus sang four songs at this annual ceremony for people who have died through illicit drugs in Weston Park, Yarralumla.
12 October 2003, Ceremony of Memory and National Museum Concert
A 45-minute concert accompanied by String Suite (string quartet) and Tegan Peemoeller (harp) was followed by the Ceremony of Memory to acknowledge trauma in the community from the January firestorm, Bali bombings and conflicts in Iraq and elsewhere.
20 September 2003, Fund-raising concert for refugee advocacy
Chorus contributed several songs to a well attended house concert.
18 September 2003, CSIRO Presentation 'Finding a Voice'
Chorus presented a cultural 'collage' to a group of interstate scientists and administrative staff visiting Canberra. Conversation, reflection and thoughtful feedback followed.

August 2003, Women in Black Conference, Italy
Three Canberra Women in Black - Judith Bailey, Margaret Bearlin and Norma Hayman, all Chorus members - sang Lament at this international gathering. Words, music, story and CDs of Lament were distributed there and at the World YWCA Gathering in Brisbane so that Lament is now being sung in many languages on all continents around the world.
30 July 2003, Midwinter Choral festival, The Street Theatre, Canberra
A big night out with Chorus presenting 40 minutes of music and comment. Our guest artist was 14-year-old Robin Dalton.
26 July 2003, Goulburn Peace Feast. 'Forks'n All'
A Chorus of Women performed seven songs during this multi-arts community event, organised by Lieder Theatre Company in and around St Saviour's Cathedral.
25 July 2003, Exhibition opening, ACT Legislative Assembly
Chorus joined Women in Black to sing at the opening of Rose Osborne's photographic exhibition documenting the events on 30 May.
16 and 17 July 2003, Psychology residential, University of Western Sydney
Chorus presented songs and activities as exemplars of 'cultural therapy' to Masters students enrolled in Cultural Madness and Therapy.
20 and 22 June 2003, National Day of Action for Refugees, Action for Refugees Rally
A Chorus of Women sang Lament on both occasions in Canberra.
6 June 2003, Release of an Oath, Riverside Theatre Centre, Parramatta
A Chorus of Women sang Lament in Elizabeth Cameron Dalman's classic dance work of the 1970s by students from the UWS School of Contemporary Theatre Arts.
3 June 2003, Canberra Grammar School
Twelve members of Chorus sang Lament and spoke to 120 Year 11 boys. Glenda Cloughley gave a brief talk.
2 June 2003, Women on the Line, Helen Lobato interview on 3CR
Glenda Cloughley's interview about A Chorus of Women was networked to 30 regional radio stations around Australia and generated numerous responses from listeners.
May 2003, ABC Radio's 24 Hours magazine
Andrew Ford, writing on whether Australia should have a 'national composer' said Judith Clingan had composed a 'refreshing' work in Lament that 'turned beauty into political protest' and 'brought music to the heart of Australia's public life'.
30 May 2003, Women in Black/Rose Osborne Public Art Project
A Chorus of Women sang Lament at the shrouding in black of public art works in Civic, including Tom Bass's Ethos at the entrance to the ACT Legislative Assembly.
25 May 2003, Sorry Day involvement
A Chorus of Women sang Lament and the new Sorry Song, written for the occasion.
18 May 2003, Dance Week performance, Mirramu Dance Company
The Canberra Times said Chorus 'added depth and colour' to the dance and provided 'poignant and touching reminders of peoples without peace'.
14 May 2003, Lament Perspective, Radio National
The producer said this Perspective piece by Glenda Cloughley generated more responses than any other she had produced. Click here to view the transcript (160 kb).
April – July 2003, Wayfarers Choir European Tour with Judith Clingan
Music for Lament and Wishes for Leaders was often sought when Wayfarers Australia performed them. Both are being sung by European choirs. Audiences often reported strong emotional responses to Lament.
April 2003, Australian Women Speak Conference
Judith Clingan workshopped Lament with delegates to a session on creativity. Many were obviously moved.
20 April 2003, National Folk Festival performances, Canberra
Chorus sang to an audience of 2000 in the Peace Concert, and in the Ecumenical Peace Service.
13 April 2003, Australian War Memorial Concert, Canberra
At a concert in the Hall of Remembrance Chorus sang Lament, Wishes for Leaders and traditional peace songs.
29 March 2003, Rachum Labyrinth Opening, Murrumbateman
Chorus sang Lament at the opening of the Rachum Labyrinth at the home of Chorus member Alison Meretini.
24–28 March 2003, Formative Meetings
At well attended meetings we discovered the basis of a sustainable, collaborative, creatively energetic Chorus of Women, and embarked on weekly rehearsals, and philosophy and conversation meetings.
23 March 2003, Peace Rally, The Domain, Sydney and NSW Art Gallery
Eleven women left Canberra at 7am in a mini-bus, taught Lament to numerous Sydney women over mobile telephones and sang to 50,000 people at the Domain. When the group was introduced as 'the women who had filled Parliament House with lament' thousands stood and cheered.
22 March 2003, The Music Show, Radio National
Judith Clingan was interviewed by Andrew Ford.
21 March 2003, Children of the Gulf War exhibition opening, Canberra
Chorus sang at the opening of '˜The Children of the Gulf War', an exhibition by anti-nuclear photographer Takashi Morizumi in the A.C.T. Legislative Assembly.

19 March 2003, Glenda Cloughley's letter
Following the responses to the Lament Glenda Cloughley wrote to the women about the role of the Chorus in ancient Greek theatre and democracy and proposed that we accept the name given to us by reporter Fran Kelly (see ABC 7.30 report, 18 March 2003). Conversations began about the possibility of interested women continuing to meet.Here is a copy of Glenda's letter.
18 March 2003, Australian Parliament House
150 women sang a Lament in the Grand Foyer of Parliament House on the day PM John Howard announced Australia's participation in the invasion of Iraq. The song had been written by Glenda Cloughley (words) and Judith Clingan (music) only days before. Many hundred copies of the hand-written manuscript were distributed among the singing networks of Canberra women. Here is a copy of the music. Millions of Australians heard national media broadcasts of this action and invitations began to arrive for Lament to be sung on other occasions.