HOW CAN WOMEN LEAD A MOVEMENT FOR UNITING ACTION ON CLIMATE CHANGE?
Harvest of a gathering to consider the discussion paper:
Independent mediation for uniting action on climate change by Janet Salisbury
Canberra, 20 January 2020
Purpose of this harvest: To record what happened when 31 women gathered to explore this theme and to offer this as a base for determining further action.
Audience for this harvest: Those women present at the meeting and others interested in pursuing this question. It is not targeted at the general public at this stage. The harvest follows the flow of the meeting – click on the links for more detail. It is divided into 6 parts:
Opening the gathering

Presenting information

Sharing ideas

Closing the circle

Reflections after the gathering

A call to action.
Thanks to those who helped with harvesting: Lyn, Jenny, Kirsten,

Janet,

Sarah, Helen
1.Opening the gathering
Acknowledgement of country and welcome – Glenda Cloughley
Introduction and purpose of the meeting – Janet Salisbury
'Our purpose here tonight is not to rethink my paper – that might come a bit later — but to look at some of the key principles together, to inspire each other, and to think about how we can do this big thing together. As individuals, we can also see if this initiative is a fit for us in our quest to make a difference.'

Song: Dear Earth - A Chorus of Women. Listen
Check in:
What brings you here?
Reflection: Janet Salisbury -
'
For me the highlight of the evening was the check-in round — hearing you all respond to my paper, speak support for me personally, and your energy and enthusiasm around women leading the change we long for was very powerful and moving for me. Thank you. Although we did not all know each other, I felt a strong common connection in the room from that moment and I think that energy and commitment will take us a long way.'

Poem:

Coming in from the storm

by Jenny Robinson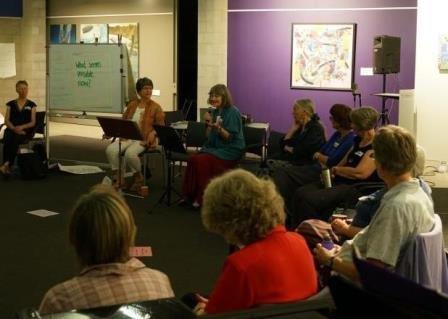 2. Presenting Information
Introduction to discussion paper – by Janet Salisbury
YouTube Clip: Wicked problems – 'Wicked Problems' Systems Innovation 2019-0917 shared by Jenny Robinson
Story: 'Based on Stories, and what we are good at! from the film 'Demain', ('Tomorrow'). Dion, Cyril, 1978-, (director.) & France TV Distribution (Firm), (film distributor) 2017, shared by Sarah Stitt
'What humans are very good at is telling stories about our doom. What we need to be good at is the stories with a good ending. We need to visualize and imagine what we want.'

Information: A time for women to lead — presented by Glenda Cloughley. Listen to Glenda's talk.

3. Sharing ideas
With thanks to Lyn Stephens for hosting these groups

Small group: What would it take to enact a 'no blame' principle? Suggested directions
Be clear about why 'no blame' is needed and how mediation can work

Imbed this no blame behaviour in our principles and walk the talk

Distinguish between accountability and blame when engaging with power

Find and work with the common ground, shared values and common humanity
See a mind map with more detail

Small group: How can we empower/inspire women to join us? Suggested directions
Communicate clearly what we are about

Don't bite off too much too soon - Make it manageable

Build deep - for full understanding of and engagement with the concepts we are promoting

Build wide - to engage as many women as possible
See a mind map with more detail. Some ideas which we are noting and parking for the moment.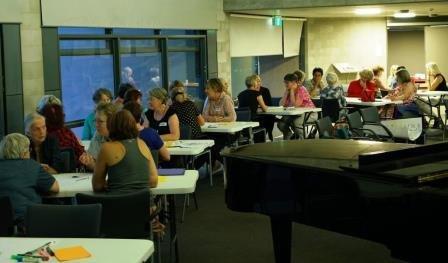 4. Closing the circle
Circle: What seems possible now?

Analysis of the circle conversation: Emerging philosophies and strategies by Kirsten Anker
Check out:
What are you taking away?
The gathering closed with a one word check out. Here is some of the flavour:
Excited (2) Stories, Nourished (2), Hopeful (8), Challenged (3) Hard work ahead, Excited (2) Bit confused (2) We can do it, Intrigued, Seize the moment, Grateful (3), Future focused, a few ideas, The doors are open for anything
5. Reflections after the gathering
6. A call to action



Invitation to join a working group – We are offering 4 possible working groups, derived from the conversations on 20 January. These are not fixed - but are a start - and open for discussion and refinement.
Interim strategy, governance and coordination group

- to support Janet and consider issues like:
Our vision, mission etc.

Refine draft strategic goals suggested by Janet

'Amplify the voices of women that we heard so poignantly last night so that we can be heard above all the other noise to empower women (and men) who are positions of power to bring nurture of life fully into policy discourse

Develop broad principles that would guide mediation on policy towards the safe future we want (development of these might be the subject of the smaller conversations that Elizabeth mentioned last night)

Bring about a mediation process (and this is where the uncertainty lies, but I am trusting that the way will emerge as the other two actions above gain momentum).'

Do we need a manifesto and what should be in it?

Should we set up an organisation? What sort of organisation

Should it sit, at least the start, under the auspices of The Chorus of Women?

How long is interim?

What is the relationship of this group to the other working parties

What range of skills do we need in this group?

How will we make decisions?

What strategies and priorities should we pursue?
2. Principles and concept development group

– to develop thinking and documentation around issues such as
What do we mean by independence from political influence and how does this work in practice?

What do we mean by mediation in this context? How would it work?

What do we mean by women's leadership? What are the advantages and disadvantages or positioning ourselves as female elders? The men question?
3. Education and capability building group

– to recommend which issues we need to educate ourselves on and to develop and implement ways of doing this – eg the coffee groups, the reading list suggestion, sending out materials for women to comment on etc.

4. Communications and outreach group – to develop communication materials on our principles, concepts and strategies and to develop communication approaches to reach a wide range of women.
Please contact Janet at
janet.salisbury@iinet.net.au
if you would like to join a working group or support this initiative in other ways – or if you have ideas, reflections or suggestions relevant to these aspirations.