What's new
Launch of the Canberra World Peace Bell
On 23 February, from 10.30 - 12 noon will be the official launch of the Canberra World Peace Bell in Nara Peace Park. A Chorus of Women has been invited to sing for this event. Our Meg Rigby has written a new song for this special occasion. Click here to find out more background about this project.
Canberra and Region Heritage Festival - Event around Ethos
As part of this year's Heritage Festival we will present an event on 20 April, 12 noon, around the Ethos sculpture in Civic Square. Ethos is Canberra's first public art work. She was created by Australian sculptor Tom Bass to present the spirit of the community.
More details to follow.
Anzac Eve Peace Vigil 2018
As every year since 2011, we will participate in this traditional event on the eve of Anzac Day, 24 April. We will begin with community singing and a ceremony on top of Mount Ainslie at 5.30pm. This will be followed by a quiet lantern walk down the mountain and a gathering in Remembrance Park, behind the War Memorial.
More details soon.
The Regeneration Project
Recently, we have been talking about 'Regeneration' as the theme for the activities of A Chorus of Women over the next few years. Our end-of-year concert in November 2016 ('Singing Regeneration') combined music and spoken reflections on the laws of regeneration, regenerating humanity, and regenerating the Earth.
In the current political climate, working towards political and cultural regeneration is more important than ever and we have been thinking about ways that Chorus can give voice more publicly to the underlying theme of regeneration that has been in the background of much of our previous work.
Click here for further information. about The Regeneration Project.
Please contact us if you are interested.
Further information
Watch this space for further news and information.
PAST EVENTS
Celebrating Women's Voices
10 December, 5pm, at the Chapel, Australian Centre for Christianity and Culture
At our end of year concert we shared, in story and song, inspiring stories of women around the world working for peace. Sue Wareham of MAPW told us of the nobel peace prize awarded to ICAN. We also heard excerpts from Judith Clingan's latest work, Harmonia Mundi, music and stories around A Passion for Peace and the Women's March movement.
#EvacuateNow - Canberra Vigil - Call for Singers
19 July, 6pm in Garema Place
For 4 years, successive Australian governments have forced people seeking safety to suffer in offshore detention.
Let's open the gates of the detention camps,
Let's meet with you face to face,
Let's work together to make a plan,
Let's share the burden and help you all to find
A home away from home

We invited Canberra singers, men and women, to help us form a citizen's chorus and sing our song 'A Home Away from Home' which includes the above words in the final verse. We were very happy to have a citizens chorus of around 25 singers, including some of Canberra's finest musicians.
This was to support a nationwide action calling for asylum seekers in Manus and Nauru to be released from those camps immediately and brought to safety after four years of suffering in limbo and with no clear solutions in sight.
Read the lyrics and listen to a recording of the whole song which is a short history of Australia's immigration. Most of us are boat people!
Sheet music and sound files
Guarding the Galilee
To support the Stop Adani campaign, we are hosting a film screening of the 30 minute documentary 'Guarding the Galilee'. We will also sing some of our songs for harmony with Nature and have informal conversation after the film.
Where: The Chapel., Australian Centre for Christianity and Culture, cnr. Blackall St, Kings Avenue, Barton
When: Sunday 23 July, 5-6.30pm
Cost: This is a free event, but donations are welcome to support the Defence of Country fund of the Wangan and Jagalingou Traditional Owners
Presented by Queensland-born actor Michael Caton, the film is about the struggle to stop the biggest coal mine in Australian history, Adani's Carmichael project.

The award-winning documentary team capture the raw beauty of Central Queensland where Adani's mine threatens essential water resources, and follow the water to the Coral Sea where the Great Barrier Reef is in peril from coal port dredging, increased coal ship traffic and burning of coal for electricity, the biggest contributor to climate change.
You can watch the trailer here:
Click on the link to view and download an invitation to the event.
Refugee Week Fundraiser
25 June 2017, 4.30pm at the Chapel of the Australian Centre for Christianity and Culture, corner Blackall Street and Kings Avenue, Barton
To mark Refugee Week 2017 we showed the film 'Freedom Stories', which tells the very moving stories of several asylum seekers who came to Australia by boat and ended up in detention camps. All of them are now Australian citizens.
We welcomed our audience by singing our song 'A Home Away from Home'. The film was followed by light refreshments and conversations with the audience. All proceeds will be donated to the local organisation 'Canberra Refugee Support' who help with refugee settlement in Canberra.
Click on the image to download a flyer.
Lest We Forget
On Anzac Day ABC presenter and Muslim activist Yassmin Abdel-Magied tweeted 'Lest we forget (Manus, Nauru, Syria, Palestine)'. She was widely attacked and accused of being 'disrespectful'.
Here is our response to these attacks and our own song 'Lest We Forget' which we recently recorded using Yassmin's words.
We raised $6600+ for the Climate Council
A Chorus of Women and friends raised more than $6600 for Australia's Climate Council in a lively Canberra
Spring evening of music and personal reflections about climate change.
MISSION CLIMATE! met our goal of bringing music and science into harmony, with 'inspiring', 'informative', 'wonderful' the most-used words in responses from presenters and audience. All the money raised has gone directly to help sustain the Climate Council's provision of authoritative climate information.
Founded in 2013, when 20,000 citizens donated $1 million through crowd-funding within a week of the Federal Government abolishing the Climate Commission, the Climate Council still relies on public donations to produce reports, webinars and public forums. See www.climatecouncil.org.au.
Community pride in supporting the Council seemed to unite everyone who filled the Australian Centre for Christianity and Culture (ACC&C), where A Chorus of Women is in residence. Led by MCs Janet Salisbury from Chorus and ABC Radio's Lish Fejer, we began by honouring Earth. We then set out through the anxiety of watching and waiting, listening to calls to action and inspiration from singers, scientists and people directly affected by climate change. We arrived together at possibilities for wisdom and regeneration that seem ripe for activation, given the way audience voices leapt to join the singing in The Reconciliation music from A Chorus of Women's mythic climate change drama, The Gifts of the Furies, which finishes with a 21st century setting of the 2500-year-old Hymn to Gaia.
Climate Councillor Professor Will Steffen gave the first of several brief, moving reflections on the personal experience of living with knowledge about climate change.
The MISSION CLIMATE! program included music from Canberra choir The Cyrenes, Nitya Bernard Parker and friends, Kirsten Duncan, Maartje Sevenster, and a fine instrumental ensemble as well as selections from A Chorus of Women's large repertoire of songs – all directed by Johanna McBride.
Violinist and conductor Rowan Harvey-Martin introduced her vision for The Blue Planet Orchestra in a moving tribute to her daughter and other young people who carry worries about climate change because their parents' generation is not yet acting responsibly for the long-term future. A related message came from Abuera Uruaaba, a senior lawyer in the Pacific Republic of Kiribati, where climate-linked rises in sea level threaten the island home of future generations.
Singer and environmental consultant Dr Maartje Sevenster said she felt 'uplifted by the shared understanding and experience' of the evening. CSIRO senior research scientist Dr Nicky Grigg spoke of the delight of many a Chorus event since she brought her voice and clarinet to our climate change drama in the 2007 program of National Science Week.
The evening included a short video on the plight of the Great Barrier Reef, featuring Climate Councillor Professor Tim Flannery and Climate Council CEO Amanda McKenzie. Graeme Kelleher AO, the first Chairman and CEO of the Great Barrier Marine Park Authority, described MISSION CLIMATE! as 'an inspiring event'. 'I hope its message will spread quickly through our community,' he said in relation to the need for action that requires governments to replace short-term priorities with wise, forceful action to stop climate change.
Professor Stephen Pickard, Executive Director of the ACC&C, gave a personal reflection as a member of the inter-faith group Australian Religious Response to Climate Change. Thanking the Chorus for the inspiring and moving evening, he said: 'When music and the arts join with science and the sacred the whole is always more than the sum of the parts.' Quoting the ancient writer of Ecclesiastes who observed that a threefold cord cannot easily be broken, he said Mission Climate was just such a threefold cord 'and a great encouragement'.
Writing to Chorus after the event, Professor Steffen thanked us for the 'wonderful event' and reported this lasting impression: 'I was struck by how we humans have a very long tradition of using singing as a way of expressing our feelings about the rest of the living world, and about the Earth itself,' he said. 'And although earlier societies and indigenous cultures around the world could not have had the modern scientific understanding of the Earth System, their songs had not only the word "Earth" in them, but also showed a really deep understanding of the Earth as a single, complex system and that we humans are embedded in it. Our scientific understanding has come really late! And the songs composed by the Chorus do a wonderful job of flow effortlessly from these earlier pieces of music, and remind us of the very long relationship we've had with the rest of the Earth System around us.'
Click here to read a selection of the many comments we received after the event.
Click here to see the report of our even on the Climate Council website.
Click here to see photos taken at the final rehearsal and on the night of the fundraiser.
Click here to download a program.
Listen to an interview with Janet Salisbury and Johanna McBride from A Chorus of Women and Barbie Robinson from ArtSound FM.
CHORUS IN RESIDENCE AT NATIONAL CULTURAL HUB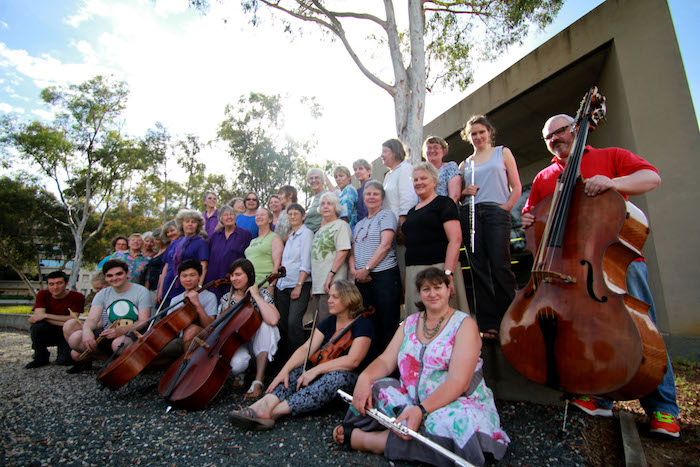 Our singers and musician friends at our new home base, at the Australian Centre for Christianity and Culture.
Since the beginning of November 2015 we have been in residence in the beautiful grounds of the Australian Centre for Christianity and Culture.
Located at the edge of the Parliamentary Triangle on the southern shore of Canberra's Lake Burley Griffin among several other national cultural institutions, the Centre is the Canberra campus of Charles Sturt University.
The residency began with the signing of a Memorandum of Understanding between Chorus women and the Centre's Executive Director, Professor Stephen Pickard. The agreement recognises many years of shared commitments to seeking wisdom for the common good. As ever, the Chorus maintains its independence and non-alignment with any religion or political group.
The Centre has welcomed our offer of 'skilled use of the arts to engage the community in public policy dilemmas by portraying the ethical dimensions of issues and foretelling the human consequences of decisions'.
The Chorus and Centre are both committed to respecting all spiritual traditions. Among our shared active interests are peace making, relations between people and Earth, reconciliation and respect for Indigenous Australians, speaking out about violence against women and children, engendering wise responses to refugees and climate change and regenerating wellbeing in the spirit of our city as our hometown and our national capital. The Centre's website is www.csu.edu.au/faculty/arts/accc
Copyright © 2015 A Chorus of Women, ABN 91 720 527 876
All rights reserved