Canberra Conversations are back!
On 28 July we will hold a centenary Canberra Conversation at the Pavilion of the National Arboretum. Go to our What's new page for details.
Songs For Our City
Songs for our City is A Chorus of Women's theme for 2013, Canberra's Centenary and our 10th anniversary year.
We returned to Parliament House for 'Open the Doors of the Chambers!' --- a 40-minute concert at 12.30pm on Tuesday 19 March, exactly a decade after 150 Canberra women sang our first song of lament into national media prominence as Australia went to war in Iraq.
Our name – taken from ABC Political Editor Fran Kelly's description of us on the 7.30 Report – continues to inspire our renewal and expansion of the role played by the Citizens' Chorus in the ancient theatre of Athens when democracy was new and vibrantly participative. A Chorus of Women has given about 150 public presentations of original music, drama, and civic conversations about sustainability. Our repertoire has grown to more than 60 original songs on a lively variety of public matters, plus three major dramatic works concerned with relations between people and Earth in changing climates.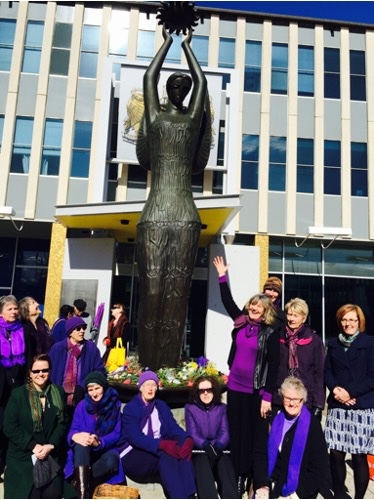 Ethos by Tom Bass (photo Eulea Kiraly)
At the beginning of our second decade, we turn to the beautiful Civic Square sculpture of Ethos as a guiding image. Created in 1961 by master sculptor Tom Bass to represent the Spirit of the Community, Ethos has been the focus of many Citizens' Chorus events we have initiated. The song 'I Am Ethos' is our centenary gift to Canberrans. We hope our CD with classical, jazz-rock and community versions of this anthem for Canberra will get you singing and maybe creating your own version. Click to hear some sound bites of all three versions and download sheet music of the a cappella and the community versions.
In 2013 we will be out in public as A Chorus of Women in groups ranging from three or four voices to more than 30, and as a Canberra Citizens' Chorus with men, women and children. Our 10th anniversary concert is at 12.30pm on Tuesday 19 March in the Foyer of Australian Parliament House where we began. Click here for further details about this and other anniversary events.
Recordings
We have just released a CD of 'I Am Ethos'. Click here to see the CD cover and label. Please contact us if you would like to order a CD.
A Chorus of Women released its first CD, 'Giving Voice' at the end of 2006 and has since released several singles. Click here for more information about 'Giving Voice'. We have also produced a double live CD set of 2009 premiere performances of 'The Gifts of the Furies', our Canberra grown mythic story song about the social and ethical crisis of climate change. For CD orders and more information click here.
Copyright © 2013 A Chorus of Women, ABN 91 720 527 876
All rights reserved
---